[Comparison] Lenovo ThinkBook Plus Gen 3 vs ThinkBook Plus Gen 2 – what are the differences?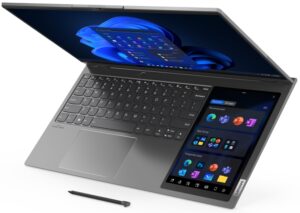 Continuing on with the double display trend, here we have the ThinkBook Plus from Lenovo, which is drastically different from the second-gen to the third-gen. Previously, the device was more oriented towards business executives and whatnot, with a secondary e-ink display on the back of the lid, for reading and using documents.
Safe to say, it didn't catch on, as it is a pretty niche technology that not many people would actually use. For the Gen 3 device, they have renovated the concept entirely, still introducing a secondary display, this time to compliment the new widescreen display, along with stylus support and an added stylus inside the notebook itself.
Full Specs: Lenovo ThinkBook Plus Gen 3 / ThinkBook Plus Gen 2
In terms of the design, the general design patterns stay the same. The laptop is still made out of metal and possesses sharp edges, rounded corners, and minimal branding. The two-tone finish on the lid and the ThinkBook wordmark are here to stay. The differences come from the dimensions, with the Gen 3 being considerably bigger, and wider, to accommodate a larger 17.3-inch display and the secondary screen. The new device is 840 grams heavier and 4 mm thicker.
The new 17.3-inch display has a resolution of 3072 x 1440p and a 120Hz refresh rate. This is a big change from the 13.3-inch FHD+ display that the Gen 2 uses. The e-ink panel is replaced by a colorful 8-inch display with a resolution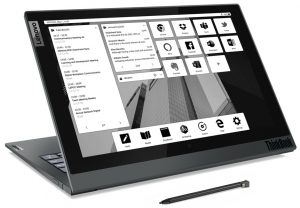 of 800 x 1280p, which also has touch support. The stylus is found on the back. The main 17.3-inch display has a peak brightness of 400 nits and covers more than 90% of the sRGB color gamut.
Finally, time for the hardware. The Tiger Lake U-series CPUs are replaced by the brand new Alder Lake P-series, which have an increased TDP of 28W and combine both Performance and efficiency cores, which should increase overall performance, since all cores will be working when needed, while also bringing great power efficiency, as when you don't need a lot of power, only the efficiency cores will be working. The GPU options are the same as the Iris Xe Graphics G7 with either 80 or 96 Execution units.
All Lenovo ThinkBook Plus Gen 3 configurations:
All Lenovo ThinkBook Plus Gen 2 configurations: