[Comparison] Lenovo IdeaPad Slim 7i (14″, 2021) vs IdeaPad Slim 7 (14″, Intel) – what are the differences?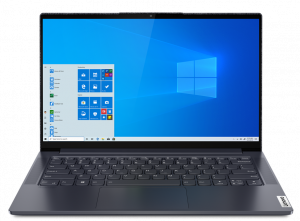 The new IdeaPad Slim 7 offers everything that a modern laptop in 2021 should. You get a good screen with full sRGB coverage, along with proper power under the hood. To see exactly how the notebook has improved for 2021, we decided to compare it to its predecessor, the IdeaPad Slim 7 (14″, Intel).
Full Specs: IdeaPad Slim 7i (14″, 2021) / IdeaPad Slim 7 (14″, Intel)
Starting off from the design, the laptops are extremely similar, if not identical. You get an aluminum body with either a fabric or an aluminum lid cover. Worry not, we don't think the durability will be affected by your choice, since even with the fabric cover, the inner frame of the lid will still be made out of aluminum. In terms of dimensions, the new laptop is around 150 grams lighter and 0.2 mm thinner.
The display selection, in our opinion, has gotten worse. While previously you could have gotten a 4K IPS panel, with the new laptop you are left with a Full HD IPS panel with 100% sRGB coverage.
Lastly, the specs are greatly improved from last year. The Comet Lake U-series CPUs are replaced by their Tiger Lake ancestors, which bring more performance and increased power efficiency. They also bring the Iris Xe Graphics G7, which is quite powerful. Yes, you do lose the NVIDIA MX graphics, but we think the Intel iGPUs are a worthy replacement.
Dimensions
320.6 x 208.18 x 14.9 mm (12.62" x 8.20" x 0.59")
Price
Starting at $629.99
Dimensions
320.6 x 208.1 x 15.1 mm (12.62" x 8.19" x 0.59")
Price
Starting at $644.92
All Lenovo IdeaPad Slim 7i (14″, 2021) configurations:
All Lenovo IdeaPad Slim 7 (14″, Intel) configurations: