[Comparison] Lenovo IdeaPad Flex 3 Chromebook (11″, M836) vs Flex 3 Chromebook (11″, 736) – what are the differences?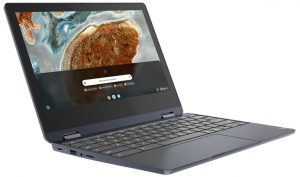 Chromebooks are getting overlooked. The value that they provide is great, but many people still favor traditional Windows laptops. However, with Windows 10 S getting discontinued, Chromebooks start to make even more sense. The OS is more resource-efficient, being able to run on even the most powerless of devices. Today we will talk about one such Lenovo Chromebook, which can do pretty much everything that you would want from a basic laptop, such as browse the web, watch videos and movies online, send, e-mails, the whole 9 yards. The IdeaPad Flex 3 Chromebook comes in a very compact 11.6-inch form factor, as well as having the versatility of a 360-degree hinge and a touchscreen. Today we are comparing the old IdeaPad Flex 3 Chromebook to the new Chromebook to see what are the differences?
In terms of the design, there are some noticeable changes, such as the now two hinges, instead of one big one, which spanned from one side of the base to the other. Maybe the new design improves the folding ability of the laptop. The build materials remain that same, with plastic everywhere. However, due to the compact size and noticeable thickness of 18.5mm, which is down one millimeter from last year. The lid is now different as well, with Lenovo opting for a dual-tone grey finish, with one side having a texturized pattern, as well as the Chromebook logo.
The display situation is the same on both models, with there being one 11.6-inch 768p IPS panel. The display is pretty barebones, but you don't need anything spectacular at this price point. Being a convertible device, the screen also has touch functionality. The brightness and contrast ratio are also good enough, sitting at 250 nits and 800:1, respectively.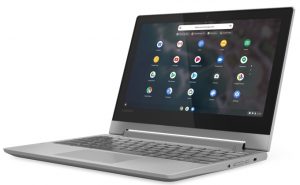 When it comes to the specs, both laptops are powered by an SoC made by Mediatek. The new one uses the Mediatek MT8183, which has eight cores, divided into two pairs, like most other mobile CPUs. The old one used the MT8173c, which has only 4 cores, so you can expect a nice bump in performance. The GPU is new as well, with the new Chromebook getting the ARM Mali-G72 MP3, replacing the Imagination PowerVR GX6250.
As far as the I/O is concerned, you actually lose the HDMI connector, which is a bummer, but at least you still have the MicroSD card reader, the two USB ports, and the 3.5 mm audio jack. What you gain with the new device, is a set of front-firing stereo speakers, which should be a nice improvement from the order, bottom-firing setup.

All Lenovo IdeaPad Flex 3 Chromebook (11″, M836) configurations:
All Lenovo IdeaPad Flex 3 Chromebook (11″, M736) configurations: