[Comparison] Intel Core i3-1215U vs AMD Ryzen 5 5500U – an uphill battle for the Intel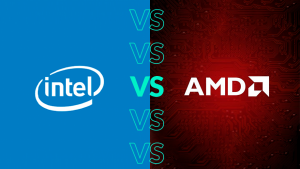 One of the positive surprises of 2021 was the arrival of the first Ryzen 5000U-series processors, which didn't have a lot going for them in terms of hype.
They were using the older Zen 2 architecture, which killed a lot of the traction that the 5000U-series had, as many people were expecting Zen 3, which did arrive eventually. However, the Zen 2 CPUs delivered a lot of performance, and notebooks with them came at very good prices, making them very hot commodities for people who like a good deal.
Going to the newest generation of CPUs, we have Intel's Alder Lake U-series, with so far the Core i3-1215U being the only CPU that we have managed to put to the test. Today we are having the Core i3 go against the Ryzen 5 5500U, to see just how the new tech compares to a successful powerhouse chip.
Today, we compare the Intel Core i3-1215U against the AMD Ryzen 5 5500U.
You can take a look at our Top Laptop CPU Ranking, where we showcase the best and the newest laptop processors.
You can find more information about both CPUs here: Intel Core i3-1215U / AMD Ryzen 5 5500U

Specs table
Intel Core i3-1215U
AMD Ryzen 5 5500U
Architecture
Alder Lake-U
Zen 2
Cores / Threads
6/8
6/12
Clock Speeds – Base/Boost
0.90 – 4.40GHz
2.10 – 4.00GHz
Cache
10MB
11MB
Lithography
10nm
7nm
TDP
15W
15W
Memory type
DDR5-4800,
LPDDR5-5200
DDR4–3200MHz
LPDDR4x–4266MHz
DDR4-3200MHz, LPDDR4x-3733MHz
Integrated GPU
Intel UHD Graphics (Alder Lake, 64EU)
AMD Radeon RX Vega 7 (R4000/5000, 15W)
CPU benchmarks
The Ryzen 5 puts the Core i3 to shame, scoring 104% higher in Cinebench 20, while also being around 1.3 seconds quicker in Adobe Photoshop.
Results are from the Cinebench R23 CPU test (the higher the score, the better)
Results are from our Photoshop benchmark test (the lower the score, the better)
Conclusion
The difference in computing power is large but also expected, as the Ryzen 5 5500U sits much higher on the imaginary totem pole, or in our case, the Top Laptop CPU Ranking. Furthermore, Ryzens have proven to be very efficient, delivering long battery life that makes a laptop last through a whole day of use. However, if you like having the latest tech in your arsenal, maybe wait up for the more powerful Alder Lake chips to hit the market.

All laptops with the Intel Core i3-1215U:
All laptops with the AMD Ryzen 5 5500U: