[Comparison] HP EliteBook 835, 845, and 855 G8 vs EliteBook 835, 845, and 855 G7 – what are the differences?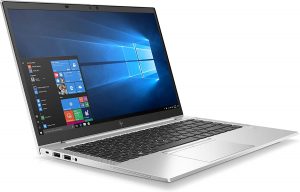 The HP EliteBooks are really well-thought-out machines, which feature new hardware and good designs. At the end of the day, what more do you need. Hp has also simplified the spec sheets, offering identical hardware between the different laptops, so the only thing you need to worry about is the laptop size.
The simplicity is what makes these laptops great. They offer simple, yet good-looking designs, and don't suffocate you with an abundance of hardware options. Today we have the eighth generation of the 800-series EliteBooks and we will compare them to their predecessors, to see what has remained and what is different.
Full Specs: EliteBook 835 G8 / EliteBook 835 G7 / EliteBook 845 G8 / EliteBook 845 G7 / EliteBook 855 G8 / EliteBook 855 G7
The laptops look nearly identical from the outside. They all have premium aluminum unibodies that are well built and give you a sensation of expansiveness. There is a slight difference in the keyboard setup, with the 13.3-inch and 14-inch model getting a smaller keyboard without a NumPad. The 845 laptop gets a column of shortcut keys, while the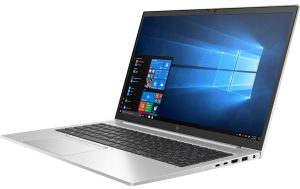 855 gets a whole NumPad. The laptops' weight and height are nearly identical to their predecessors, with the difference being below 50 grams.
All six laptops, both old and new, feature a Full HD IPS display.
Lastly, the specs are also identical for the new devices, while being obvious upgrades to the older G7 laptops. You get to choose between three Ryzen 5000 U-series processors, which are also part of the Ryzen Pro family, which come with increased performance and stability. They replace the Ryzen 4000 U-series Pro CPUs.
Dimensions
307.5 x 204.4 x 17.7 mm (12.11" x 8.05" x 0.70")
Dimensions
307.8 x 204.6 x 17.9 mm (12.12" x 8.06" x 0.70")
Price
Starting at $1289.00
Dimensions
323.3 x 214.3 x 17.7 mm (12.73" x 8.44" x 0.70")
Price
Starting at $500.00
Dimensions
326.3 x 214.7 x 17.9 mm (12.85" x 8.45" x 0.70")
Price
Starting at $425.00
Dimensions
359.4 x 233.6 x 19 mm (14.15" x 9.20" x 0.75")
Price
Starting at $1849.00
Dimensions
359.7 x 233.8 x 19.2 mm (14.16" x 9.20" x 0.76")
Price
Starting at $999.00
All HP EliteBook 835 G8 configurations:
All HP EliteBook 835 G7 configurations:
All HP EliteBook 845 G8 configurations:
All HP EliteBook 845 G7 configurations:
All HP EliteBook 855 G8 configurations:
All HP EliteBook 855 G7 configurations: