[Comparison] Dell G5 15 (5515, AMD) vs G5 15 (5505, AMD) – what are the differences?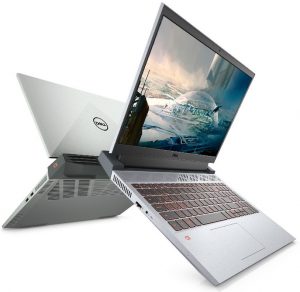 While Dell is famous for their Alienware brand of gaming products, they also have their own Dell-branded gaming laptops, which are a tad less powerful, but also have a lower price, which is very welcomed by budget gamers. The G5 15 is one of their more affordable devices, and it recently got updated for the 2021 model year. It brings new, more powerful hardware and some visual improvements. The laptop comes with both AMD and Intel hardware, but for today we will focus on the Team Red edition.
The design has been revamped for 2021, with the introduction of a new lid design, which is divided into three triangles, with the Dell logo in the center. Gone are the speckles from last year, which we actually liked, since they also had a cool reflective effect. The base looks similar, coming in a two-tone finish. Most of the base is one color, while the backside where the ventilation grills are situated comes in a different, complementary color. The sides have a red G logo. Build materials include plastic, and that's pretty much it. However, this doesn't mean that the device cant be rigid, as due to its weight and thickness, it would be sturdy and without major bending or twisting.
The display options vary a lot between the new and the old model. On the G5 15 (5505), there were a total of three 15.6-inch screens to choose from. All of them had IPS panels, Full HD resolution, and a refresh rate of either 60Hz, 120Hz, or 144Hz. The newer device offers only two panels, the better of which has an even higher refresh rate of 165Hz. It's safe to say that these panels won't top the color accuracy and coverage charts, but should provide a great experience when it comes to gaming.

The specs are vastly improved, as the new laptop uses the Ryzen 5000-series processors, which are all built using the new Zen 3 architecture, which promises more performance while being more power-efficient. They replace the Zen 2-based 4000-series chips, which are still quite powerful and if you're looking for great value, don't look anywhere further. The laptop also comes with the RTX 3060 (Laptop, 115W), which is crazy powerful and will bring AAA games to their knees, especially in 1080p. The RTX GPU replaces the RX 5600M, which we hate to admit does lack power, when put against the NVIDIA card.

All Dell G5 15 (5515, AMD) configurations:
All Dell G5 15 (5505, AMD) configurations: