[Comparison] ASUS ZenBook 14 Q408 vs ZenBook 14 Q407 – what are the differences?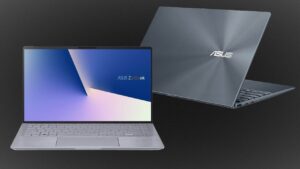 ASUS has always bestowed flagship qualities to their ZenBook laptops, however, they aren't always the most expensive devices you can get. Sometimes, they market their notebooks with either the VivoBook or ZenBook brand, depending on which one is more popular in a certain market.
Today we have a ZenBook that doesn't really carry that premium price tag or the high-end performance. However, it is a good mid-range offering for any ultrabook enthusiast, providing good hardware and stellar build quality. Today we are comparing it against its Q407 predecessor, to see what are the differences.
Full Specs: ASUS ZenBook 14 Q408 / ZenBook 14 Q407
The design of the new device implements some things from the older notebook, but generally, the two look different. Mainly, you still have a chassis with chamfered edges and rounded corners, along with a lid with a brushed finish. However, on the newer ZenBook, we see the traditional circular pattern, along with an off-centered ASUS logo. The Ergolift hinge is retained. The sides of the Q408 also look a bit different, having a diamond cut as well. In terms of dimensions, the new notebook is around 160 grams heavier but has slimmed down its profile by a millimeter and a half.
The display selection stays the same, with a Full HD IPS panel with full sRGB coverage. On the hardware side, both notebooks use Zen 2 processors, with the newer ZenBook bringing some much-needed improvements with its Ryzen 5 5500U, which when compared to its Ryzen 5 4500U, has SMT, most commonly known as Hyperthreading thanks to Intel and extra 3MB of cache. Graphics-wise, the new device has the successor of the NVIDIA MX 350 that is inside the Q407, which is the MX 450. The "new" GPU still uses Turing tech but has a sizeable improvement in CUDA cores and access to GDDR6 memory.
Dimensions
320.04 x 198.12 x 16.76 mm (12.60" x 7.80" x 0.66")
Price
Starting at $549.00
Dimensions
319 x 199 x 18.2 mm (12.56" x 7.83" x 0.72")
Price
Starting at $535.02
All ASUS ZenBook Q408 configurations:
All ASUS ZenBook Q407 configurations: