[Comparison] ASUS ROG Zephyrus G14 (GA402) vs Zephyrus G14 (GA401) – what are the differences?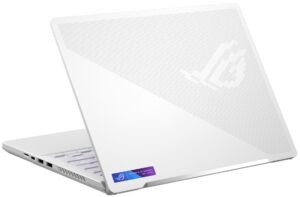 Hands-down, the Zephyrus G14 is one of our favorite devices here at the office. Not only does it bring some of the best and most powerful hardware that you can get, but it also does so while sporting a very portable and durable body.
All in all, the laptop is a showstopper bringing that ROG flavor, while doing so in a more elegant manner.
Today we are comparing the new GA402 G14 against its predecessor, the GA401, to see what are the differences.
Full Specs: ASUS ROG Zephyrus G14 (GA402) / Zephyrus G14 (GA401) 
The new notebook keeps the same design, but plays a bit with the colors. There is the Gunmetal grey option, which is suitable for any occasion, but now you also have a white option, which looks really good with the purple and blue on the ASUS badge. The Anime Matrix is also available, allowing you to pick an image or a gif to put on display. If that's not your style, there is a Prismatic film, which illuminates the lid in the colors of the Northern lights. In terms of weight and height, the new laptop is 50 grams heavier, while being a millimeter and a half thinner.
In the case of displays, now you have a single 14-inch option, instead of the previous five options. The GA402 gets the best panel that the GA401 offers, which has a QHD resolution and a 120Hz refresh rate. It also fully covers the DCI-P3 gamut, comes with Pantone Validation, and has Dolby Vision support.
In terms of hardware, the Zen 3 CPUs are replaced by a single Zen 3+ option. All of the Ryzen 5000H-series chips are gone in favor of the new Ryzen 9 6900HS. It should have more performance, while also bringing the new integrated graphics from AMD, which use the RDNA 2architecture.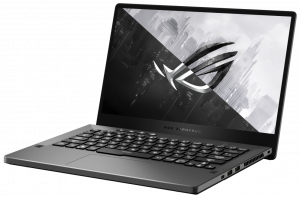 There is also a large change in the GPU offerings, with two discrete RDNA 2 GPUs: the RX 6700S and the RX 6800S. The new S-series is targeting portable gaming laptops, and while you're not getting the full M-series, these new GPUs should be easier to cool down, especially in smaller form-factors like this one.
Also, since you'll have both integrated and discrete Radeon graphics, you can take advantage of AMD's Smart technologies, which allows for quick switching between the two, while also siphoning power from the CPU and putting it to the GPU, optimizing gaming and productivity performance.
Dimensions
312 x 227 x 18.5 mm (12.28" x 8.94" x 0.73")
Price
Starting at $1297.99
All ASUS ROG Zephyrus G14 (GA402) configurations:
All ASUS ROG Zephyrus G14 (GA401) configurations: