[Comparison] AMD Ryzen 9 5900HX vs Intel Core i7-10875H – the Ryzen 9 5900HX processor is on its way to become the best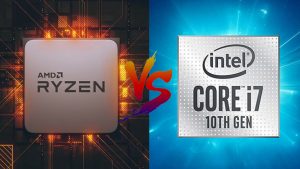 As you know, we are continuing on with our analysis of the Ryzen 9 5900HX. We have already prepared some CPU comparisons of it but we keep pumping them out so that you are well-informed and can make the best decision, in regards to your future purchase.
Next on the chopping block is the Core i7-10875H, which is a pumped-up version of the Core i7-10870H that we used in our previous comparison. The Ryzen performed better than it, so let's see if this beefed-up CPU can finally challenge the AMD hotshot, which could become the most powerful laptop CPU in the market.
Today we are comparing the AMD Ryzen 9 5900HX against the Intel Core i7-10875H.
You can check out our Top Laptop CPU Ranking, where you can find the best processors for laptops.
You can learn more about both CPUs here: AMD Ryzen 9 5900HX / Intel Core i7-10875H

Specs table
| | AMD Ryzen 9 5900HX | Intel Core i7-10875H |
| --- | --- | --- |
| Architecture | Zen 3 | Comet Lake H |
| Lithography | 7 nm | 14 nm |
| Cores / Threads | 8 / 16 | 8 / 16 |
| Base / Max frequency | 3.30 – 4.60GHz | 2.30 – 5.10GHz |
| TDP | 45W | 45W |
| Cache | 20 MB | 16 MB |
| Memory type | DDR4-3200MHz, LPDDR4x-4266MHz | DDR4-2933MHz |
| Integrated graphics | AMD Radeon RX Vega 8 (R4000/5000, 35/45W) | Intel UHD Graphics 630 |
CPU benchmarks
The Ryzen 9 5900HX showed its opponent how it's done, by performing 28% better in the 3D Rendering test with Cinebench 20. In the Adobe Photoshop benchmark, which tests the processors' 2D Rendering capabilities, the Ryzen was once again faster, finishing it with a half a second lead.
Results are from the Cinebench 20 CPU test (the higher the score, the better)
Results are from our Photoshop benchmark test (the lower the score, the better)
Conclusion
To conclude, the Ryzen 9 5900HX put its performance on display and used the Core i7-10875H as its personal punching bag, as it showed 28% higher performance in 3D Rendering and had a half a second lead in 2D Rendering. However, while the 3D Rendering scores were quite noticeable, the Photoshop ones were much less so. This means that if your work consists of mainly Photoshop or image editing in general, and you can find a better deal on a laptop with this Intel CPU, you should just go ahead and buy it.

All laptops with the Ryzen 9 5900HX:
All laptops with the Core i7-10875H: