[Comparison] AMD Ryzen 7 6800H vs Intel Core i7-12700H – Intel hits like Will Smith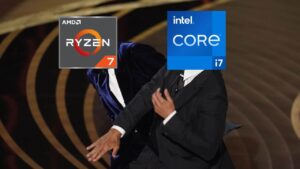 The matchup that will lay the stage for the whole year of 2022, we finally have a Zen 3+ CPU going against an Alder Lake H CPU.
The brand new Ryzen 7 6800H is a highly coveted chip, not only because of the improved architecture, which is set to improve both performance and battery life but also because the new 6000H-series gets the RDNA 2 mobile iGPUs, which have a goal to bring iGPU gaming to new standards.
On the other side is a very innovative chip, as the Core i7-12700H treads new terrain with its hybrid architecture, setting a new trend in mainstream desktops and laptops. Which will come out on top, read on below.
Today we are comparing the Ryzen 7 6800H against the Core i7-12700H
You can find more information about both CPUs here: AMD Ryzen 7 6800H / Intel Core i7-12700H 

Specs table
AMD Ryzen 7 6800H
Intel Core i7-12700H
Architecture
Zen 3+
Alder Lake H
Cores / Threads
8/16
14/20
Clock Speeds – Base/Boost
3.20 – 4.70GHz
2.30 – 4.70GHz
Cache
20MB
24MB
Lithography
6nm
10nm
TDP
45W
45W
Memory type

DDR4–3200MHz,

LPDDR4x–4267MHz

DDR5-4800, LPDDR5-5200, DDR4-3200, LPDDR4x-4267
Integrated GPU
AMD Radeon RX 680M
Intel Iris Xe Graphics G7 (96EU)
CPU benchmarks
The Zen 3+ chip makes minimal gains in both tests but still falls short against the behemoth that the i7-12700H is. The Intel CPU scores 12% higher in Cinebench 20 and is nearly a second quicker in Photoshop.
Results are from the Cinebench R23 CPU test (the higher the score, the better)
Results are from our Photoshop benchmark test (the lower the score, the better)
Conclusion
If you were looking for performance gains with Zen 3+, you'll probably be disappointed. However, don't let this dissuade you from the fact that Intel has created a monstrosity with cores and threads for days. One area where we may see the Ryzen CPU performs better is with its iGPU, but it's often unheard of for a high TDP laptop CPU to not have a dedicated GPU, which will most likely outshine any integrated offering.

All laptops with the Intel Core i7-12700H:
All laptops with the AMD Ryzen 7 6800H: