[Comparison] AMD Ryzen 7 3750H gets destroyed by Intel Core i7-1065 G7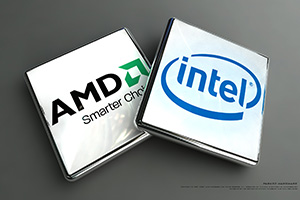 Welcome to the head-to-head battle of Intel and AMD's latest laptop processors. In the Red trunks, you are going to see a bulkier competitor requiring a 35W of power. In the other corner – wearing all Blue is a small, but very agile performer – it needs twice less the power of its opponent and has a great potential thanks to its smaller node.
Visit our Top Laptop CPU Ranking to check these two and many more CPUs.
Specs overview
Apart from the power they need to run, these processors differ in their architecture as well – the Ryzen 7 3750H is built on a 12nm architecture, while the Core i7-1065 G7 – on the long-awaited 10nm one from Intel. On the other side, both of them have four cores and eight threads, where the AMD processor's operating frequency goes from 2.30 GHz up to 4.00 GHz in Boost, the Intel one goes from 1.50-3.90 GHz. While in theory, the AMD is superior, thanks to its higher frequencies, in terms of Cache, the Core i7-1065 G7 doubles the amount of its opponent – 4MB vs 8MB.
In the iGPU-department, the Ryzen 7 3750H is equipped with the Radeon RX Vega 10, whereas the Core i7-1065 G7 relies on Intel's latest Iris graphics card.
You can check out the full specs of the Intel Core i7-1065 G7 and the AMD Ryzen 7 3750H.
Benchmarks
Since we already saw the performance Core i7-1065 G7 showed on Geekbench, we knew it had a lot of potentials. However, we're not prepared to see such a big difference between it and the score of the Ryzen 7 3750H.
Geekbench Single-Core
Geekbench Multi-Core
AMD Ryzen 7 3750H
4045
12165
Intel Core i7-1065 G7
5234(

+29%

)
17330(

+42%

)
Conclusion
We saw a very heavy defeat for the Ryzen 7 3750H. It was beaten by its ULV competitor with almost 30% in Single-Core and more than 40% in Multi-Core performance. Here we should remind you that the scores posted by the Core i7-1065 G7 on Geekbench have not yet been confirmed and we're certainly going to update this article with our particular tests, as soon as we get our hands on a unit equipped with the Core i7-1065 G7. However, the difference is too great to call it a coincidence, isn't it?
All laptops equipped with the AMD Ryzen 7 3750H
All laptops equipped with the Intel Core i7-1065 G7