[Comparison] Acer Swift 3 (SF314-43) vs Swift 3 (SF314-42) – what are the differences?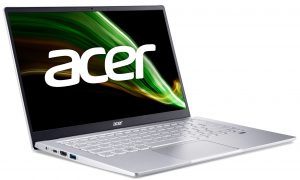 Acer has been one of the revolutionist brands when it comes to consumer electronics. Their rise with brands like ASUS, and Gigabyte shaped up the market into what it is today. Nowadays, Acer enjoys relative success and while it is sitting at sixth place when it comes to market share, behind ASUS, it still offers products that push the limits of technology. Their Swift 3 devices have been great for general use and as a daily driver. They also now come with powerful enough chips that can handle real work. Today we will cover the latest Swift 3 (SF314-43) in the best way possible, by comparing it to its predecessor, the Swift 3 (SF314-42), to see what are the differences.
On the outside, we don't see any major changes. The designs are very similar, with some changes, for example, the more angular approach to the base and bottom panel, which had a bit of curvature before. The hinge is now invisible when looking straight at the laptop. Also, the bezels seem to have lost their glossiness and now look a bit cheaper, to be honest. A big thing is the new hinge mechanism, which now lifts up the base of the laptop, to give the cooling more room to breathe. When it comes to the dimensions, the new laptop is 2mm thinner, while maintaining the same weight of 1.20 kg. This is done with the use of aluminum and magnesium alloy, which allows for thinner sheets, which both reduce the weight and height.
Moving over to the display choices, there isn't really a choice, with there being only one 14-inch Full HD IPS panel. We believe that the panel is the exact same unit on both devices, which was overall a good display. It had great viewing angles and was bright enough. Of course, you shouldn't expect wonders when it comes to color reproduction, as we are talking about a budget solution. However, for daily tasks, this display does wonders, and you will be able to enjoy your favorite movies, especially if you happen to stare at the laptop screen for longer than you should, since the laptop is flicker-free, regardless of the brightness level.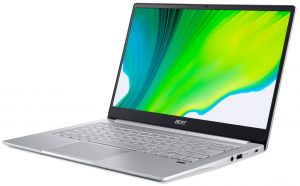 The specifications for sure aren't what they seem to be. The laptop comes outfitted with the Ryzen 5000 U-series CPUs, with the Ryzen 3 5300U, Ryzen 5 5500U, and Ryzen 7 5700U, being available. These processors come to replace the 4300U, the 4500U, and the 4700U. However, these exact 5000-series chips actually use the same Zen 2 architecture, so to call them an upgrade would be unfitting unless you count the bump in clock speeds, which is still helpful. The graphics on the new and old device are the same, with there being the choice between the RX Vega 6 (15W) and RX Vega 7 (15W).

All Acer Swift 3 (SF314-43) configurations:
All Acer Swift 3 (SF314-42) configurations: