[Comparison] Acer Nitro 5 (2022) vs Nitro 5 (2021) – what are the differences?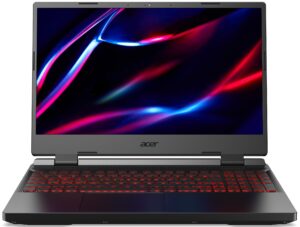 The Nitro 5 finally gets the attention that it deserves. The series has been stuck with its outdated gamer-y look for several years, while the rest of the field has moved ahead with new sleeker-looking bodies.
However, while the appearance of the notebook had its issues, the insides have improved with every new generation, bringing more performance, while Acer has improved its cooling significantly, managing to squeeze as much performance as possible.
Today we have the new 2022 versions of the Acer Nitro 5, which we are comparing against their predecessors in order to see what are the differences?
Full Specs: Acer Nitro 5 (Intel, 2022) / Acer Nitro 5 (AMD, 2022)
Full Specs: Acer Nitro 5 (Intel, 2021) / Acer Nitro 5 (AMD, 2021)
The new 2022 model has a much-improved design. The lid now has a flat shape, with several lines running through it. It's unclear if any of them light up, but it does look really good for a budget gaming notebook. The laptop still keeps its gaming roots, with the rear end sporting aggressive heat vents that look similar to the ones on the old device. The new Intel device weighs 300 grams more while also being 3 mm thicker. On the side of AMD, the new laptop is 300 grams lighter, while being 6mm thicker.
The display selection is kept the same, with an FHD 144Hz display and a QHD 165Hz display.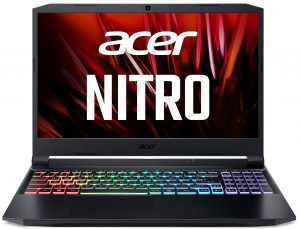 Lastly, the new laptops bring new hardware to the table. The Tiger Lake and Zen 3 processors are replaced by Alder lake and Zen 3+ units. They each come with their own improvements. The new Intel CPUs come with a large increase in the core count, which equates to much more performance.
On the AMD side, there is a big improvement in the iGPU space, with RDNA 2 tech replacing the aging Vega graphics that we had before. While this doesn't seem like a big deal, it can have a great effect on the battery when you're using the laptop for low-resource tasks, like web browsing or watching media.
The same GPU selection stays from last year, but there is a large increase in the TGP, which should equate to a decent performance increase. You can get the new laptops with up to a 150W RTX 3070 Ti.
All Acer Nitro 5 (Intel, 2022) configurations:
All Acer Nitro 5 (AMD, 2022) configurations:
All Acer Nitro 5 (Intel, 2021) configurations:
All Acer Nitro 5 (AMD, 2021) configurations: