[Comparison] Acer ConceptD 3 (CN316-73G / CN316-73P) vs ConceptD 3 (CN315-72 / CN315-72G) – what are the differences?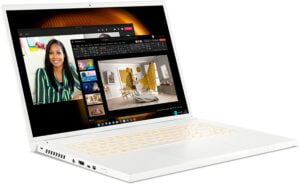 Acer doesn't make a lot of Creator notebooks, but when it does, it blows it out of the park. Of course, they have the Triton SE series, which combines gaming and creator features, resulting in very good devices.
However, their ConceptD brand is solely dedicated to Creators, focusing on the task at hand 100%. Today we have the Acer ConceptD 3 with its 2022 and 2021 models which we will compare against each other in order to see what are the differences.
Full Specs: Acer ConceptD 3 (CN316-73G / CN316-73P) / ConceptD 3 (CN315-72 / CN315-72G)
The laptop uses the same design language. Truth be told, we need more white notebooks overall, as it is very refreshing around all the black and silver. The addition of a yellow backlight further makes the device stand out. The metallic body has been treated with a ceramic coating for extra durability, along with an extra stain-resistant coating to keep that white exterior white. In terms of dimensions, the new notebook is larger, due to the 16-inch display. The 2022 device weighs 500 grams more and has a profile that is 3 mm thicker.
The new laptop has a 16-inch display with a 16:10 aspect ratio and FHD+ resolution, replacing the 15.6-inch FHD panel with a 16:9 aspect ratio. As with ConceptD laptops, the displays come with superb coverage and accuracy. The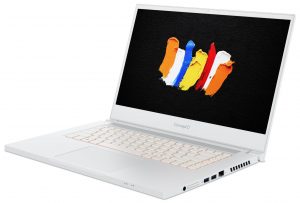 panel fully covers the sRGB gamut and has PANTONE validation.
In terms of the specs, the new 2022 model seems to be pretty late to the party, embracing Tiger lake at the wrong time, right as Alder lake has arrived and already shown off how much better it is. Still, the performance will be through the roof, especially when compared to the 10th Gen Comet Lake.
The GPU selection is improved as well, with the GTX 1650 having had its last ride. Now's the time for the RTX 3050 Ti (and the NVIDIA T1200), which bring both gaming and Creator performance.
Dimensions
358 x 249 x 21 mm (14.09" x 9.80" x 0.83")
Dimensions
358.5 x 249 x 17.9 mm (14.11" x 9.80" x 0.70")
All Acer ConceptD 3 (CN316-73G / CN316-73P) configurations:
All Acer ConceptD 3 (CN315-72 / CN315-72G) configurations: