ASUS ZenBook Pro Duo 15 UX581 vs ASUS ZenBook Pro Duo 15 UX582 – what are the differences?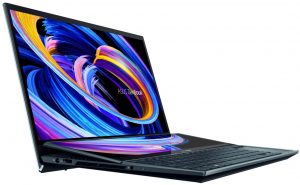 The ZenBook brand has offered flagship laptops ever since its inception in 2011. Since then many things have changed, the brand has evolved and the devices that it offers now are better polished and quite powerful.
The ZenBook brand has been about premium build quality and beautiful designs, with the most recent ZenBook Pro Duo following the same philosophy. Being quite bigger than the ZenBook Duo 14, it has better display options and hardware choices, including an RTX 3070 and a Core i9. Today we are here to talk about both the ZenBook Pro Duo 15 UX582 and its predecessor, the Pro Duo 15 UX581.
Starting off from the design, both devices feature the same metal body that goes a long way in making the laptops feel special and premium. The metal improves the cooling by helping it dissipate the extra heat. The design itself is sleek and grown-up. The new ZenBook is both thinner and lighter than its predecessor, weighing 2.40 kg, and has a profile of 21.5 mm, a hundred grams lighter, and 2.5mm thinner than the older ZenBook.
The main feature of the ZenBook Pro Duo, the displays, retain the astonishing qualities of its predecessor. The main 15.6-inch panel has a UHD resolution and an OLED matrix, ensuring great colors and true blacks, which also means that if you mainly use a black wallpaper or dark themed apps in general, you are actually improving your battery life, while also looking stylish. The panel has a 100% coverage of the DCI-P3 color gamut, which is better than the sRGB coverage of the smaller ZenBook Duo 14. The smaller ScreenPad Plus display has a size of  14 inches and the same UHD resolution but lacks the OLED qualities of the main screen.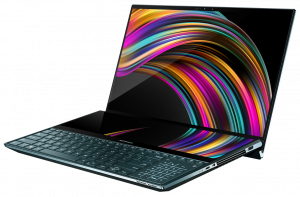 The specs here are changed, although slightly. The CPU options are less than last year's model but they both have the same top CPU, the Intel Core i9-10980HK, which is one of the most powerful mobile processors out there. The bigger change comes in the GPU department, where we see quite the upgrade. Where the previous ZenBook Duo Pro only had the RTX 2060 (Laptop, 80W), the new one gets the RTX 3070 (Laptop), which in our opinion is the best RTX card of the bunch, in terms of price/performance.
The I/O is changed in some aspects as well, with ASUS adding one additional Thunderbolt 3 port, increasing the number of them to two while subtracting one USB Type-A port. There is also one HDMI 2.1 port as well as the regular 3.5mm audio jack. Wi-Fi 6 and Bluetooth 5 also remain from last year.
Dimensions
359 x 249 x 21.5 mm (14.13" x 9.80" x 0.85")
Price
Starting at $2799.99
Dimensions
359 x 246 x 24 mm (14.13" x 9.69" x 0.94")
Price
Starting at $1899.99
All ASUS ZenBook Pro Duo 15 OLED (2021) configurations:
All ASUS ZenBook Pro Duo 15 OLED (2020) configurations: