ASUS ROG Zephyrus Duo 15 (GX550) vs ASUS ROG Zephyrus Duo 15 (GX551) – what are the differences?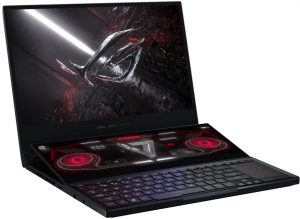 With the unveiling of the updated ASUS ROG Zephyrus Duo 15 (GX551), we thought now would be a great time to talk a little bit about its predecessor, the ROG Zephyrus Duo 15 (GX550), with a focus on what is different and if this new and improved version is the device to go for, despite the fact that the older one will probably get discounted and the new one has the premium price tag.
Starting off with the design, it is mainly unchanged, which is good. The metal body provides the structural support that a device of these proportions needs. The ROG branding looks as intimidating as ever and once you open the device you are greeted by the future. The additional ScreenPad Plus display provides an additional workspace for your apps or games, with an RGB backlit keyboard below it.
Now that we have mentioned the display, or in this instance displays, the situation remains relatively the same. The base option of a Full HD IPS panel with a refresh rate of 300Hz is still here, which we believe is ideal for gamers since 1080p still provides good enough detail and visuals, while not sacrificing performance. The other option for a display is a 4K panel with a 120Hz refresh rate, and while the lid device still offered a 4K screen, it was a 60Hz one.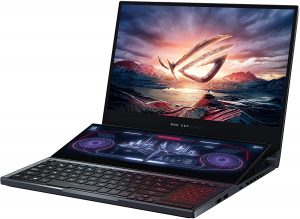 The area where there are the most changes and improvements is in the hardware, where ASUS has switched to Team Red, with their latest CPU offerings from the new Ryzen 5000-series, where the older machine had the Comet Lake H CPUs. The new one can be bought with up to the Ryzen 9 5900HX, in contrast to the Core i9-10980HK. The GPU situation is upgraded as well. The new RTX 3000-series Ampere GPUs hit the stage and replace the older 2000-series RTX cards.
All ASUS ROG Zephyrus Duo 15 GX550 configurations:
All ASUS ROG Zephyrus Duo 15 GX551 configurations: