AORUS 17G vs AORUS 17 – the new one comes with greatly reduced weight and profile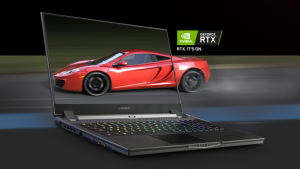 AORUS 17 of 2019 is an desktop-like laptop that has one main flaw – it's an oversized machine that suffers from obesity. With a profile of 38 mm it'll be hard for a lot of people to fit it in a regular bag, especially if you want to put something else inside like the charger or some magazines. And with a weight of 3.75 kg, you'll surely feel its presence all the time. On the other side, this year's AORUS 17G has been on a diet and it has normal (if not smaller than average) proportions for a 17.3″ high-end device.
The 2020 device comes with other new things like Intel 10th gen-H series CPUs and refreshed GPUs from NVIDIA.
You can check the prices and configurations of the AORUS 17G devices in our Specs System: https://laptopmedia.com/series/aorus-17g/
You can check the prices and configurations of the AORUS 17 devices in our Specs System: https://laptopmedia.com/series/aorus-17/
Contents
Design: thinner and lighter
From the outside, the new model has a bit more cleaner design that the 2019 machine that has a gamer-ish look. The really thin bezels are here to stay so the AORUS 17G definitely looks good with such a big display and thin bezels around it. The keyboard is the same unit but everything around it is sleeker so the new laptop looks like an almost entirely new device.
AORUS 17G | AORUS 17

If we have to be more specific about how much weight and height the new machine has lost when compared to the 2019 notebook, just look at the provided pictures down below.

AORUS 17G

AORUS 17
Display: 144Hz and 240Hz factory calibrated displays
There are two display options that are factory calibrated and their average dE value is below 1.0 which means that these panels are able to reproduce accurate and punchy colors. The default variant is a 144Hz unit while there is a 240Hz one which surely sounds mouthwatering to hardcore gamers.
AORUS 17G | AORUS 17

Hardware: Comet Lake-H and NVIDIA RTX Super
You want a fast 8-core CPU with overclocking abilities? No problem – the Core i9-10980HK is waiting for the ones who always seek maximum performance (and have big wallets). The other processor options are the Core i7-10875H and the Core i7-10750H. The top GPU option of the 2019 variant is the full-blown RTX 2080 while the new notebook has an RTX 2080 Super Max-Q as a flagship GPU offering. Nevertheless, the RTX Super GPU comes with higher shader count so it seems like a fair deal. If you don't want to spend a whole fortune for a new laptop, you can pick another decently fast GPUs like the RTX 2070 Super Max-Q, RTX 2060, or GTX 1660 Ti.
Additionally, there is the Windforce "infinity" cooling, equipped with five heat pipes and two fans, that should blow away the heat from this device.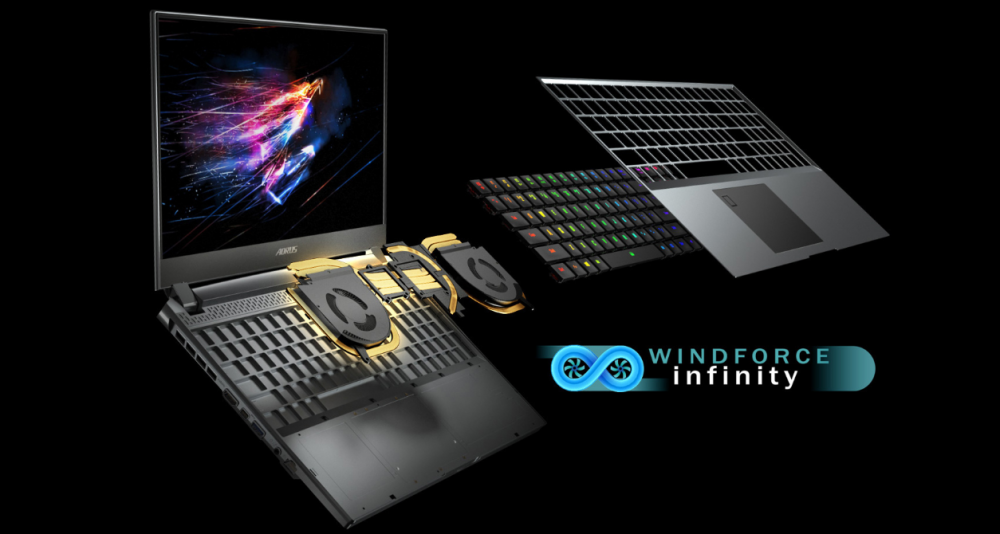 Connectivity and ports: a nicely-looking port selection
The I/O is almost the same as the Aorus 15G – 3x USB 3.2 Gen1 (Type-A), one USB Type-C port with Thunderbolt 3 support, an HDMI 2.0, a mini DP 1.4, an audio jack, a mic-in jack, an SD card reader, and an RJ-45 port.

Storage and other specs: big battery, mechanical keyboard with OMRON switches
The Aorus 17G uses the same keyboard as the 2019 model but there is nothing bad in it because it's a great unit for gaming. It has OMRON mechanical switches so you can probably expect super tactile feedback and good travel from them. The 17G version has two NVMe ports while the 2019 model has an extra SATA port but maybe we can blame the thinner profile for it. However, two M.2 ports are still fine for such a device. The 94Wh battery seems like a logical choice keeping in mind what kind of hardware this thing has to handle.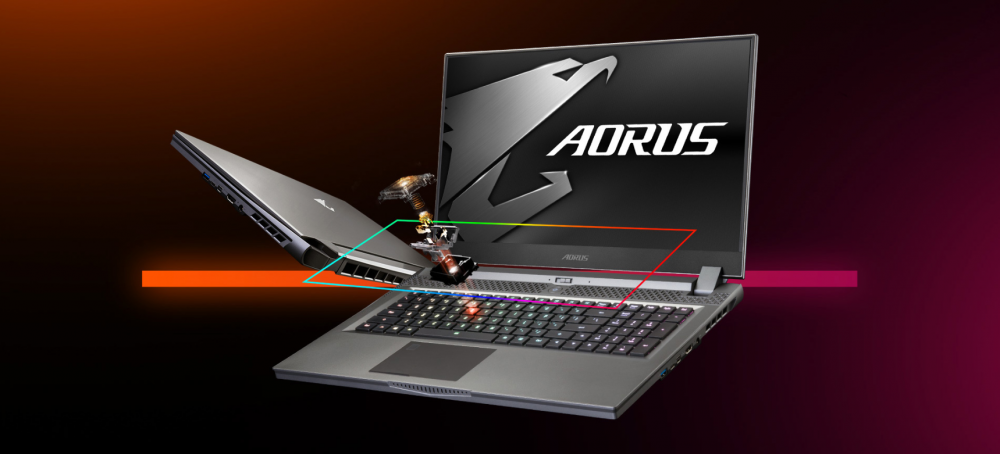 Specs Comparison
| | AORUS 17G | AORUS 17 |
| --- | --- | --- |
| Display | 17.3″, Full HD, IPS 144Hz / 240Hz | 17.3″, Full HD, IPS 144Hz / 240Hz |
| GPU | up to NVIDIA RTX 2080 Super Max-Q | up to NVIDIA RTX 2080 |
| CPU | Intel Core i9-10980HK, i7-10875H, i7-10750H | Intel Core i9-9980HK, i7-9750H |
| Memory | DDR4 up to 2933Mhz | DDR4 2666MHz |
| Storage | 2xM.2 NVMe SSD | 2xM.2 NVMe SSD + SATA |
| Gigabit WiFi | 802.11ax | 802.11ax |
| Battery | 94Wh | 94Wh |
| Thickness | 26.0 mm | 38 mm |
| Weight | 2.8 kg | 3.75 kg |
| Review | – | – |
Prices and Configurations
AORUS 17G configurations:

AORUS 17 configurations: