AMD Ryzen 7 2700 vs AMD Ryzen 7 2700U – the uncompromising Ryzen 7 2700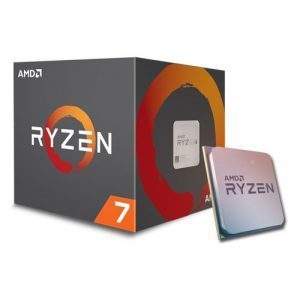 The time has come to conclude our group of articles in which we compare the gold medalist in our Top Laptop CPU Ranking AMD Ryzen 7 2700 to other worthy rivals with one last battle in which it faces AMD Ryzen 7 2700U – one of the first Ryzen CPUs of the low-power line. Follow this link to read our previous comparison starring the former, as well as the 8th gen Intel Core i7-8750H.
Visit our Top Laptop CPU Ranking to check these two and many more CPUs.
Specs overview
Let's first take a quick look at AMD Ryzen 7 2700 which is based on AMD's new 12 nm Zen+ architecture with a total of 4 cores 8 cores and is able to execute up to 16 threads simultaneously thanks to the Simultaneous Multithreading (SMT). In addition, it runs at a base frequency of 3.2 GHz that can go up to 4.1 GHz. Other specs worth mentioning include 16MB of L3 Cache, support for up to a dual-channel DDR4 memory controller, as well as TDP rated at 65 W.
Moving on to AMD Ryzen 7 2700U, it is based on the "Zen" Core architecture meaning that the processor features the enabled AMD SenseMI Technology. Build through a 14nm manufacturing process, the chip sports 4 cores and 8 threads. You are also presented with 2.20 GHz base clock speeds and have a maximum boost clock of 3.80 GHz. In addition, the processor features up to dual-channel DDR4-2400 memory modules and 6 MB cache distributed 2/4 MB for L2/L3 respectively. Also, the integrated GPU is RX Vega 10.
You can check out the full specs of the AMD Ryzen 7 2700 and the AMD Ryzen 7 2700U.
Benchmarks
Results are from the Cinebench 20 CPU test (the higher the score, the better)
Results are from our Photoshop benchmark test (the lower the score, the better)
For the purposes of this juxtaposition, we have decided to compare the performance of the two chips found in Acer Predator Helios 500 and AMD Ryzen 7 2700U respectively. As you can see from the charts above, AMD Ryzen 7 2700 outperforms its rival with the phenomenal 152% when it comes to 3D rendering (tested with Cinebench 15). On top of that, the chip manages to score 71% faster results in the Adobe Photoshop test compared to Ryzen 7 2700U.
Conclusion
Judging by the fact that AMD Ryzen 7 2700 crushes its opponent in all 2 benchmarks with a large difference in numbers, it would be only fair to announce it as the better CPU choice in this battle.
You can check all currently available notebooks equipped with the AMD Ryzen 7 2700 in our Laptops Specs system over HERE and all featuring the AMD Ryzen 7 2700U over HERE.