Acer Predator XB3 (XB273UGS) vs Dell S2719DGF – top dog or a budget champion?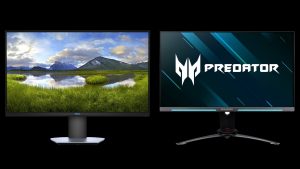 Have you ever asked yourself what specifications define a certain panel to be called a "gaming monitor"? Let us guess – resolution, refresh rate, response time, display quality, stand adjustments, and design. Let's be honest, when a specific product combines all these specs its end price isn't very pleasant, at least in most cases. If you are on a budget what characteristics are you willing to sacrifice – refresh rate over resolution or response time over picture quality? Well, that's a hard question.
If you buy a 27″ 1080p monitor (instead of a 1440p unit) with let's say 240Hz, probably it'll be great for games but perhaps you're going to notice the lower resolution all the time. The other situation is the following – you have a monitor with a superb panel (that has a perfect diagonal/resolution combo – maybe 27″/1440p) that is able to show vivid colors but at the same time it's too slow for comfortable gameplay. Decisions, decisions, that's why you always have to find the sweet spot that matches your needs and…wallet.
For today's comparison, we picked the Acer Predator XB3 (XB273UGS) and Dell S2719DGF. The Acer monitor is the more expensive product, it has a 1440p resolution, great IPS panel with a high refresh rate, and superb stand – a dream come true for a lot of us. On the other side, we have Dell's offering. This is a 1440p monitor as well but it uses a TN panel which supports a high refresh rate too, and as you may already guess – this one is cheaper than its rival in our article.
So, an expensive IPS monitor versus an affordable TN product that maybe offers a lot for its money (or maybe not). Let's find out the pros and cons of these two and we will see which one is better and why.
Read our in-depth reviews here:
Acer Predator XB3 (XB273UGS): Detailed review
Dell S2719DGF: Detailed review
You can check the current price of Acer Predator XB3 (XB273UGS) here: Buy from Amazon.com (#CommissionsEarned)
You can check the current price of Dell S2719DGF here: Buy from Amazon.com (#CommissionsEarned)
Contents
What's in the box?
Both monitors come protected in standard boxes, nothing too fancy here (ok, the Acer's one is a bit on the "fashion" side) but they are well secured so online orders with a courier shouldn't be a problem. Inside of the Acer Predator XB3 (XB273UGS) box is placed a two-part stand, the monitor, some manuals, and charging brick. As for the cables, an HDMI cable, a DisplayPort cable, a USB Type-A to Type-B cable, and two LED light strip adapters.
The packaging of Dell S2719DGF is much more modest. It includes a two-part stand, an HDMI cable, a power cable, and an audio cable.
Design and construction
These two are made of plastic and that is nothing unexpected – most of today's monitors feature an all-plastic build. The most important thing is that they both have super-thin bezels and if you're watching a movie with predominant dark scenes the bezels are almost unnoticeable. No matter the monitor, there is a hole in the stand that allows better cable management. The Acer Predator XB3 has a 3-leg stand (the legs are made of metal) that is stable enough for a fixed position on your desk. The upper part of the stand is just enormous but it suits well the design of this unit – it screams "I'm created for gaming purposes". Yeah, the design may be a bit too aggressive for some of you but everyone has its own preferences.
The Dell S2719DGF has a classic design – it features a clean and neutral look that will probably suit almost every office and home. The stand is standard for a Dell monitor and it has one big foot unlike the "tarantula" legs of its opponent. The top and side bezels measure at 6.9mm and 7.4mm respectively.
Acer Predator XB3 (XB273UGS)
Now, let's see what kind of stand adjustments these two have to offer. Despite being really big, Acer's one is versatile – it supports height adjustment, tilt, swivel, and a 90-degree pivot in both directions. The mechanism just clicks and that's all – easy as it is.
Dell S2719DGF
Luckily, the stand of Dell S2719DGF can do all the necessary movements for a decent gaming monitor. We have а height adjustment (up to 130mm of vertical movement), tilt (with rotation from -5 to 21-degrees), and swivel mechanisms (45-degrees of side turn). Yep, the pivot movement persists with this unit too which is a nice touch.
We have to mention, that if you hit the desk, the Dell S2719DGF makes a little "wobble" – nothing too scary but just be careful with it,
Ports

Acer Predator XB3 (XB273UGS)
The ports of Acer Predator XB3 are placed on the back with a downwards position. From left to right we have a power plug, two HDMI connectors, a DisplayPort, an audio jack, a USB Type-B upstream port, two USB Type-A downstream ports, and on the left side, we found two USB Type-A ports.

Dell S2719DGF
The port selection of Dell S2719DGF looks good, especially for that kind of a price tag  –  two HDMI ports (1.4 and 2.0), one DisplayPort, a USB Type-B upstream port, four USB Type-A 3.0 ports, and two audio jacks.
| | Height (with stand) | Height (without stand) | Width | Weight (panel only) |
| --- | --- | --- | --- | --- |
| Acer Predator XB3 (XB273UGS) | 530 mm (20.87″) | – | 612.0 mm (24.10″) | 5.85 kg (12.9 lbs) |
| Dell S2719DGF | – | 394.8 mm (15.54″) | 611.6 mm (24.08″) | 4.27 kg (9.4 lbs) |
OSD Menu
The OSD menus of these guys are rich in options and adjustments for fine-tuning. You can control the Acer product via an On/Off switch, three quick-access buttons, and a knob, that will show you the whole OSD menu.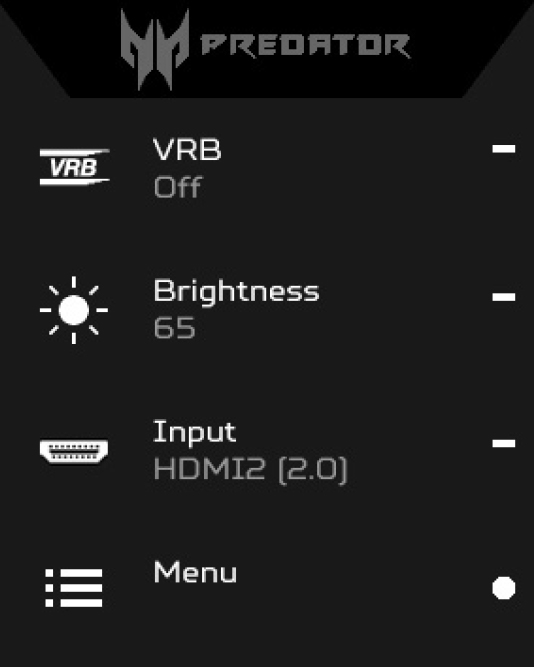 Acer Predator XB3 (XB273UGS)
Dell S2719DGF
The Dell S2719DGF has 6 buttons plus one for Power On/Off. From left to right, you can see "Preset modes", "FreeSync", "Dark Stabilizer", "Brightness and Contrast adjustment", "Full Menu" and an "Exit" button
The Acer Predator XB3 (XB273UGS) offers 6 sub-menus while its rival has 8 ones. The amount of menus doesn't mean anything because both monitors are rich in customisations when it comes to picture quality settings.
Acer Predator XB3 (XB273UGS)
Dell S2719DGF
Display quality
As you may already know, the two opponents have panels with 27″ diagonals, and the resolutions for both is the same – 2560×1440. We are glad to see the absence of 1080p because it is a bit too low for this kind of screen size.
It's time to talk about some differences between these two. The Acer Predator XB3 (XB273UGS) has an IPS screen that supports a 165Hz refresh rate. A 1440p monitor with IPS screen and very high refresh rate – it may sound too good but it's true. On top of that, this fella supports G-Sync as well. Note that if you want to set 165Hz and G-Sync you're going to need a DisplayPort connection, via HDMI you'll have just 144Hz and G-Sync will be unavailable.
On the other side, the more modest unit – the Dell S2719DGF – has a TN panel. Well, that's why this monitor is cheaper. But sometimes cheaper doesn't translate as "bad" but we will discuss this in a minute. The good news is that we have Free-Sync support and a 144Hz refresh rate – not bad at all. Moreover, you can overclock it up to 155Hz (but you're going to need a DP cable for this refresh rate) – a nice and free bonus.
When it comes to viewing angles, the XB273UGS is a clear winner but look closely at the angles of the Dell S2719DGF, they don't look that bad for a TN panel, right? The horizontal angles are just fine but the vertical ones… well, the bottom side is bad. The contrast ratio of Acer Predator XB3 is good – 1040:1 ("Standard" mode) and it's rival does a great job too with a score of 990:1. This TN panel is really good for what it is, maybe that's some kind of magic. It's great to see an advancement among the TN panels.
The Acer monitor is able to fully cover the sRGB gamut and its abilities even spread to the DCI-P3 color gamut if you use "Standard" picture mode. Movies, games, images – everything looks great on this panel. But hey, the Dell S2719DGF has something for you too – and that is 93% sRGB coverage. It's not something spectacular, but again – its a TN display, so this result is very decent for a panel like this one.
Our "Design and Gaming" profile delivers optimal color temperature (6500K) at 140 cd/m2 luminance and sRGB gamma mode. Additionally, we've used the "sRGB" preset after factory reset and brightness set to 26% for the Predator XB3 and the "Standard" preset after factory reset and brightness set to 26%.
Acer Predator XB3 (XB273UGS)
Dell S2719DGF
Values of dE2000 over 4.0 should not occur, and this parameter is one of the first you should check if you intend to use the laptop for color-sensitive work.
Below you can compare the score of the two panels – both with already applied "Gaming and Web design" profile. We consider everything above 4.0 for "bad". First of all, good scores for both, but guys – that Acer, that color accuracy. Yes, 0.5 is a great result, it seems (at least for now) that this monitor is a great all-rounder. The Dell S2719DGF surprises us again, in a good way. Thanks to our profile, it scores just at the 2.0 mark – a nice result for a TN unit. We've seen worst from IPS and VA panels, thumbs up.
PWM (Screen flickering)
One of the most important things about a display is its safety towards the user. Our two contenders offer a safe experience for prolonged periods of usage because they don't use PWM for brightness adjustment.
Response time (Gaming capabilities)
We test the reaction time of the pixels with the usual "black-to-white" and "white-to-black" method from 10% to 90% and vice versa. Now, both models have Overdrive modes. Thing is, at their max level we have observed too much visible overshoot. The sweet spot for Acer Predator XB3 (XB273UGS) is its "Normal" mode – we recorded Fall Time + Rise Time of 5.3 ms. The best mode for the Dell unit is "RTS fast" – 6.1 ms. Both panels are characterized by fast response time and they are suitable for any kind of game – racing, MOBA, shooters, etc.
Acer Predator XB3 (XB273UGS)
Dell S2719DGF
Our display profiles
Here at LaptopMedia, we create a set of custom-tailored profiles for every notebook we review. They boost the productivity of display and reduce negative effects such as blue light emissions and PWM. You can read more about them here.
Buy our profiles from here:
27.0", 1440p (2560×1440), 165 Hz, IPS (Acer Predator XB3 (XB273UGS)): Buy our profiles
27.0", 1440p (2560×1440), 144-155 Hz, IPS (Dell S2719DGF): Buy our profiles
Verdict
We are a bit surprised, of course, in a good way. Both monitors are very good offerings in their classes.
Expectedly, we are starting with the bad boy in this comparison – Acer Predator XB3 (XB273UGS). This piece of (monitor) hardware is able to do so much. It has slim bezels and a great stand (which has metal feet) with super adjustability. Okay, maybe the design isn't appealing for everyone but this isn't the most important thing in this case. Picture quality is what matters the most here. The IPS panel has superb viewing angles, decent enough contrast ratio, and great color coverage (it reaches the DCI-P3 color gamut). In addition, the color accuracy is on point as well – this fella can be used for a color-sensitive job despite being a gaming monitor.
What else – oh, yes, G-Sync, and a 165Hz refresh rate. If you have the appropriate hardware for these two features you are definitely going to like the smoothness when you're playing games (tearing-free).  The response time is fast too – 5.3 ms. The Acer Predator XB3 (XB273UGS) seems like a "full package" – it has everything on board for a great gaming experience – superb picture quality and a fast panel.
On the other side, we found the Dell S2719DGF. This monitor is significantly cheaper than the Acer but it's full of great features for its lower price tag. Its look is neutral and clean and it's suitable for almost any desk type and room. The stand is more than fine for that kind of a product – it can do even a pivot movement as well. The picture quality is very good for a TN panel, as we said earlier – we've seen worst from IPS displays. First of all, the viewing angles are … average which isn't bad for a monitor like this one. Further down the road, we can say that the sRGB color coverage is more than fine – 93% is an impressive result for a TN panel.
Furthermore, color accuracy is satisfying, the monitor is overclockable to 155Hz, and the response time is almost equal to the one of the Acer Predator XB3. Not bad, Dell, not bad.
So, the Acer Predator XB3 (XB273UGS) is a real animal, it has almost everything that a real gamer can want from a gaming monitor – rich colors, high refresh rate, fast response time, superb stand, and a lot of customization in terms of menus. Expectedly, its price is on the higher side but it's somehow normal for such a good product. If money isn't a problem, this one should be on your shortlist.
The Dell S2719DGF has a very good price/performance ratio. Sure, we have a TN panel but its viewing angles aren't too bad, the sRGB coverage is good, the color accuracy was a nice surprise, and additionally, it has fast response time. The Dell S2719DGF is a great option for people with a tighter budget – good picture quality and gaming capabilities at a pleasant price.
Read our in-depth reviews here:
Acer Predator XB3 (XB273UGS): Detailed review
Dell S2719DGF: Detailed review
You can check the current price of Acer Predator XB3 (XB273UGS) here: Buy from Amazon.com (#CommissionsEarned)
You can check the current price of Dell S2719DGF here: Buy from Amazon.com (#CommissionsEarned)