ASUS TUF A15 (FA506) (Ryzen 7 4800H + GTX 1650 Ti) review – reimagine the budget gaming laptop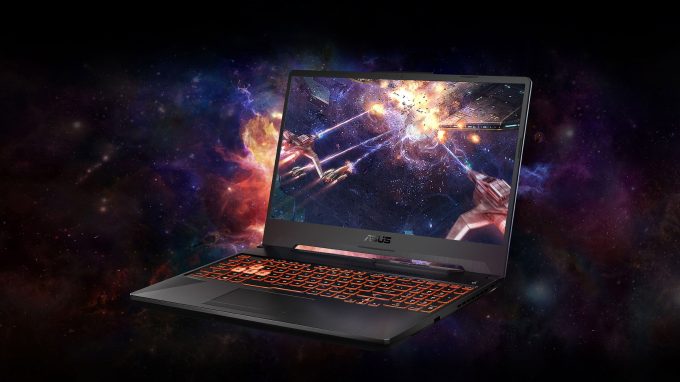 Last-years TUF FX505 was a very important device for the marque. ASUS was not very strong in the budget-gaming segment with the likes of Lenovo bringing the Legion Y540 and the Ideapad L340 Gaming series to the table. However, the FX505 managed to offer good value and performance, and moreover, strengthened the relationship between the brand and AMD.
As a result, ASUS was first in the line to receive the latest and greatest Ryzen 4000 CPUs, and boy did that workout. Currently, the TUF A15 (the successor to the FX505) is one of the most popular devices out there and as we saw with the 17-inch version of the model – there is a perfect reason for that.
Maxing out with the Ryzen 7 4800H and the RTX 2060, the TUF A15 is a very strong competitor, not only in the budget price range. As we are yet to see more devices with such configurations and how their price sits against the one of this notebook, it is comfortable to say that as of yet, this is probably the best value gaming laptop on the market.
However, let's not let presumptions blind us. We have some tests to put this device through and equally importantly, we are yet to evaluate the display quality of this 144Hz unit.
You can check the prices and configurations in our Specs System: https://laptopmedia.com/series/asus-tuf-gaming-a15-fa506/
Contents
Specs Sheet
HDD/SSD
以至于 8000GB SSD + 以至于 2000GB HDD
操作系统
Windows 10 Home, Windows 11 Home, Windows 11 Pro, Windows 10 Pro, No OS
蓄电池
48Wh, 3-cell, 90Wh, 4-cell
外形尺寸
359.8 x 256 x 22.8 ~ 24.9 mm (14.17" x 10.08" x 0.90")
2x USB Type-A
3.2 Gen 1 (5 Gbps)
1x USB Type-C
3.2 Gen 2 (10 Gbps), DisplayPort
What's in the box?
Inside the package, we found some mandatory manuals, a 150W, and the laptop itself. Additionally, ASUS was kind enough to include a bunch of cool stickers, so you can further personalize your notebook.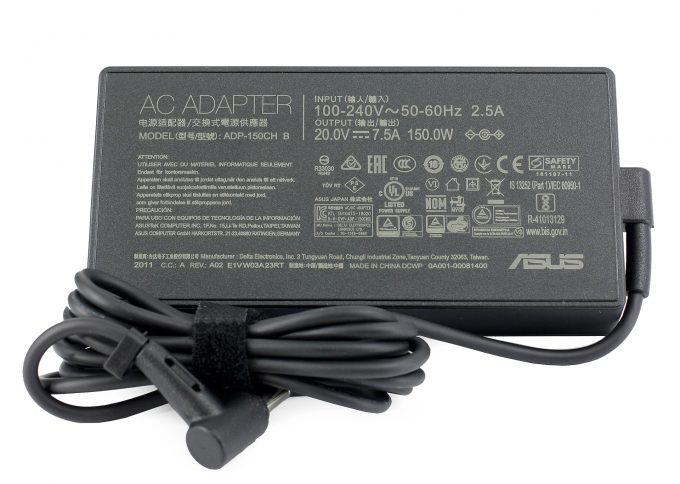 Design and construction
This laptop comes in two different visual styles – the first one has a more aggressive finish with a geometric-style embossment on the lid, while the second is cleaner (and in our view prettier), with a matte bluish finish, and four screw-like details (one in each corner). The device is slightly heavier than its predecessor at 2.30 kg, while its profile varies from 22.8mm on the thinnest part to 24.7 on the thickest. Certainly, this is not the most portable gaming laptop out there, but it has reasonable measurements and we hope that the heavier body means better cooling.
On the downside, we were not able to open the lid with a single hand on our unit. However, the thin bezels make it look modern in 2020 and the resistance to flex of both the lid and the chassis is more than welcome.
As of the base, this is pretty much the same unit we found on the TUF A17. It's equipped with an Aura-compatible RGB backlight, it has good key travel and clicky feedback. However, the resistance of the mechanisms is slightly higher than usual, thus making it less comfortable for typing. However, gamers would appreciate it. Additionally, ASUS has made a pleasant change from arrow keys that are crammed into the NumberPad section to smaller ones but moved further away from the rest. This makes it less possible to accidentally hit the "0" key or the right Shift. Not in the last place, there are a couple of function keys, which can increase/decrease the brightness of the keyboard backlight, switch between illumination modes, and boost the fans to their maximum speed.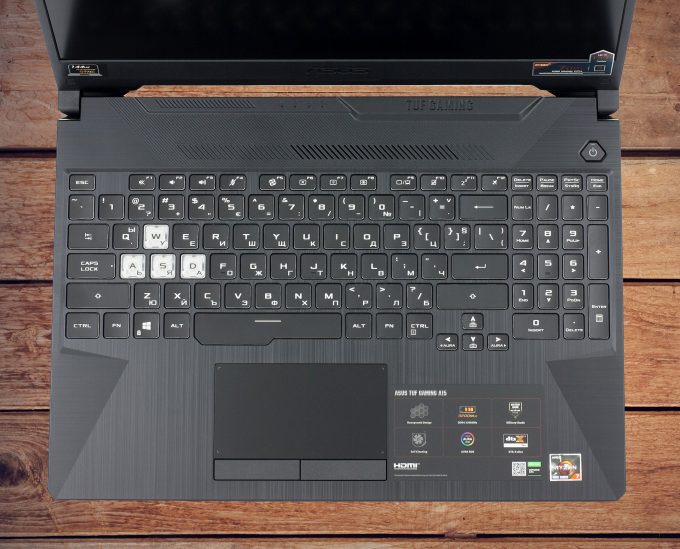 Additionally, the TUF A15 is using the keyboard area to supply cool air to the fans. Then, the touchpad. It has an orthodox position and a decent usable area, given the fact that it has dedicated left and right mouse buttons. Thankfully, they are easy to click and well-balanced, so that they don't wobble around when you move or shake the notebook. As of the gliding, it is good, despite the plastic surface, and navigating around Windows is a breeze thanks to the gesture support.
Finally, let's turn the laptop upside down and see the tiny ventilation grills on the bottom plate. As we mentioned, the keyboard deck is also used for air intake, making the need for large ventilation grills on the bottom to practically non-existent. In addition to that, there are two speaker cut-outs, which are designed in a way that shoots both towards the desk, and to both sides of the notebook.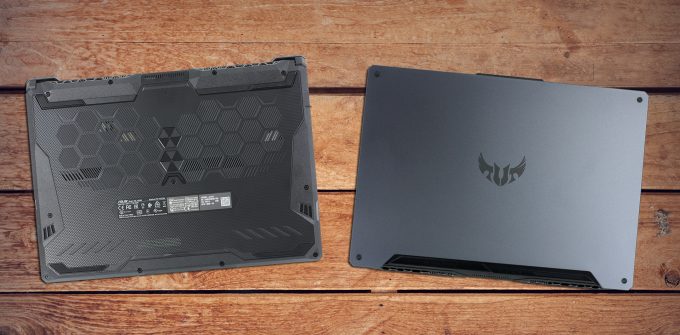 Ports
On the left side, you will find the power plug, an RJ-45 connector, an HDMI 2.0b connector, two USB Type-A 3.1 (Gen. 1) ports, a USB Type-C 3.1 (Gen. 2) port with DisplayPort 1.4 support, and an audio jack. Then, on the right, there is only a single USB Type-A 2.0 port.

Disassembly, upgrade options and maintenance
If you've seen our TUF A17 disassembly, then you'd pretty much know how to disassemble the 15-inch version as well. There are 11 Phillips-head screws, one of which remains attached to the panel after you undo it. Thoughtfully, it slightly lifts the bottom panel from the chassis, making it easy to pry it up.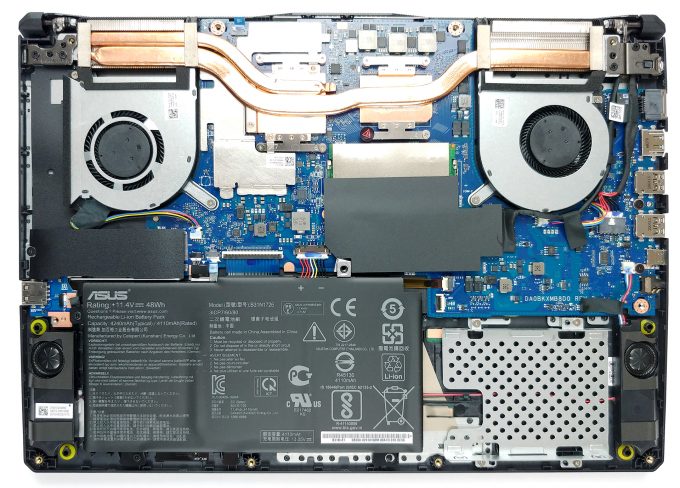 Now that we're inside, let's take a quick look at the cooling solution. Our model is equipped with the Ryzen 7 4800H and the GeForce GTX 1650 Ti. Interestingly, there are only two heat pipes, one of which is shared between the CPU and the GPU. Additionally, there are two fans and two heat sinks with a relatively small size for a gaming device.

As for the upgradability, there are two RAM SODIMM slots, working in dual-channel. They support up to 32GB of DDR4 memory working at 3200 MHz. Not bad. Storage-wise there is one M.2 NVMe slot and a 2.5-inch SATA drive bay.
And in terms of the battery, you get two options – a 48Wh and a 90Wh unit.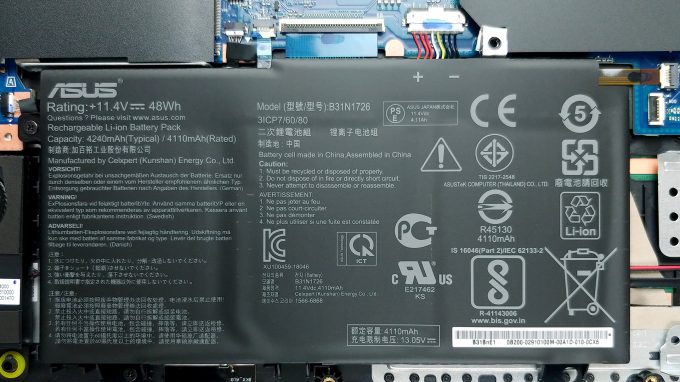 Display quality
ASUS TUF A15 (FA506) in the configuration we tested has a Full HD 144Hz IPS panel with a model number Panda LM156LF-2F01 (NCP004D). Its diagonal is 15.6″ (39.62 cm), and the resolution 1920 х 1080 pixels. The screen ratio is 16:9, and we are looking at a pixel density of – 142 ppi, and a pitch of 0.18 х 0.18 mm. The screen turns into Retina when viewed at distance equal to or greater than 60cm (24″) (from this distance one's eye stops differentiating the separate pixels, and it is normal for looking at a laptop).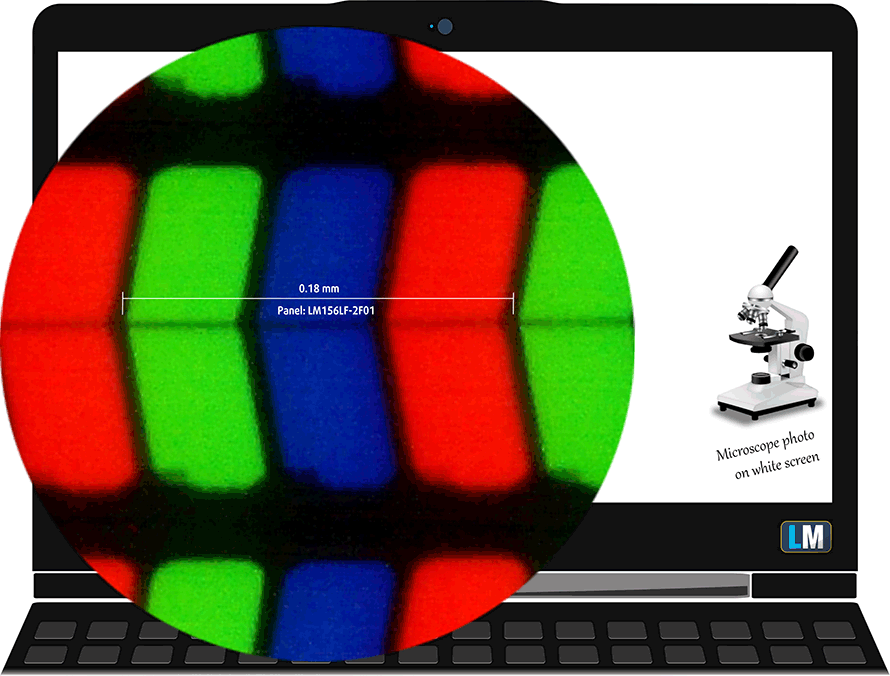 Viewing angles are excellent. We offer images at 45° to evaluate image quality.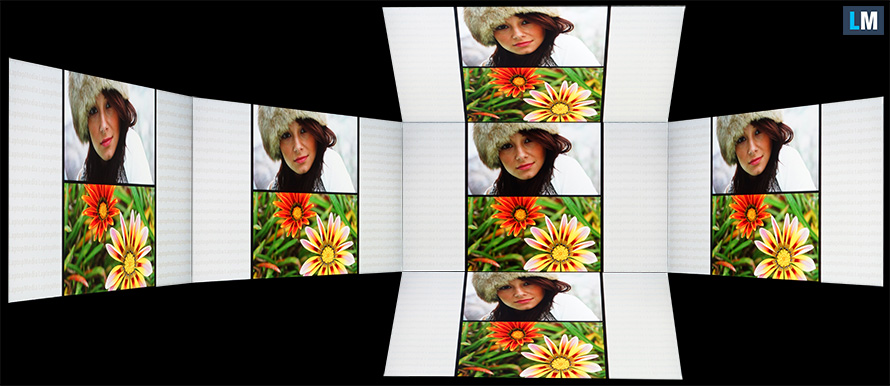 We measured a maximum brightness of 281 nits in the middle of the screen and 256 nits as an average for the whole area, with a maximum deviation of 14%. The Correlated Color Temperature on a white screen is 7150K – colder than the optimal for the sRGB standard of 6500K.
In the illustration below you can see how the display performs from a uniformity perspective. In other words, the leakage of light from the light source.
Values of dE2000 over 4.0 should not occur, and this parameter is one of the first you should check if you intend to use the laptop for color-sensitive work. The contrast ratio is good – 1300:1.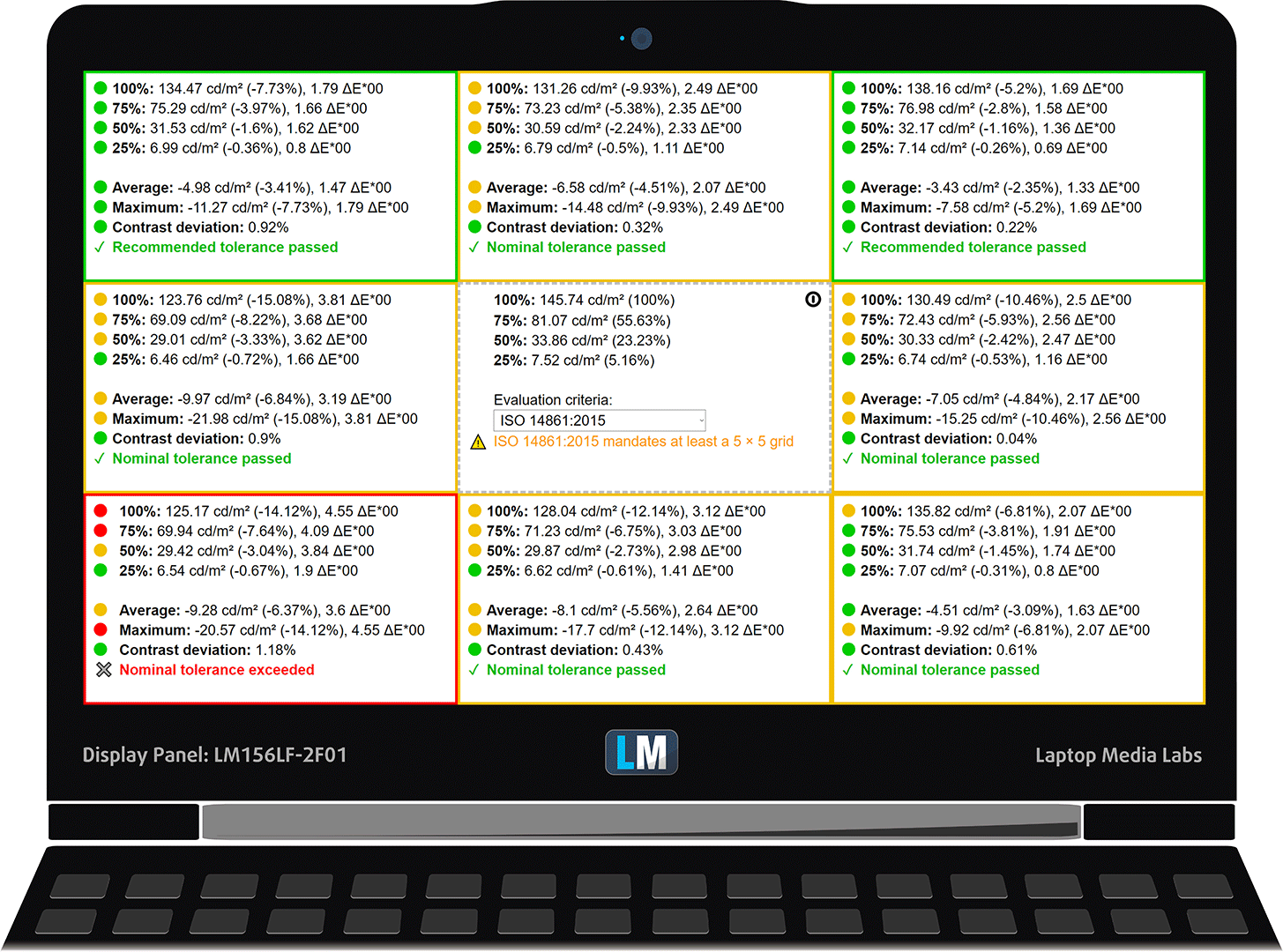 To make sure we are on the same page, we would like to give you a little introduction to the sRGB color gamut and the Adobe RGB. To start, there's the CIE 1976 Uniform Chromaticity Diagram that represents the visible specter of colors by the human eye, giving you a better perception of the color gamut coverage and the color accuracy.
Inside the black triangle, you will see the standard color gamut (sRGB) that is being used by millions of people in HDTV and on the web. As for the Adobe RGB, this is used in professional cameras, monitors, etc for printing. Basically, colors inside the black triangle are used by everyone and this is the essential part of the color quality and color accuracy of a mainstream notebook.
Still, we've included other color spaces like the famous DCI-P3 standard used by movie studios, as well as the digital UHD Rec.2020 standard. Rec.2020, however, is still a thing of the future and it's difficult for today's displays to cover that well. We've also included the so-called Michael Pointer gamut, or Pointer's gamut, which represents the colors that naturally occur around us every day.
The yellow dotted line shows ASUS TUF A15 (FA506)'s color gamut coverage.
Its display covers only 55% of the sRGB/ITU-R BT.709 (web/HDTV standard) in CIE1976.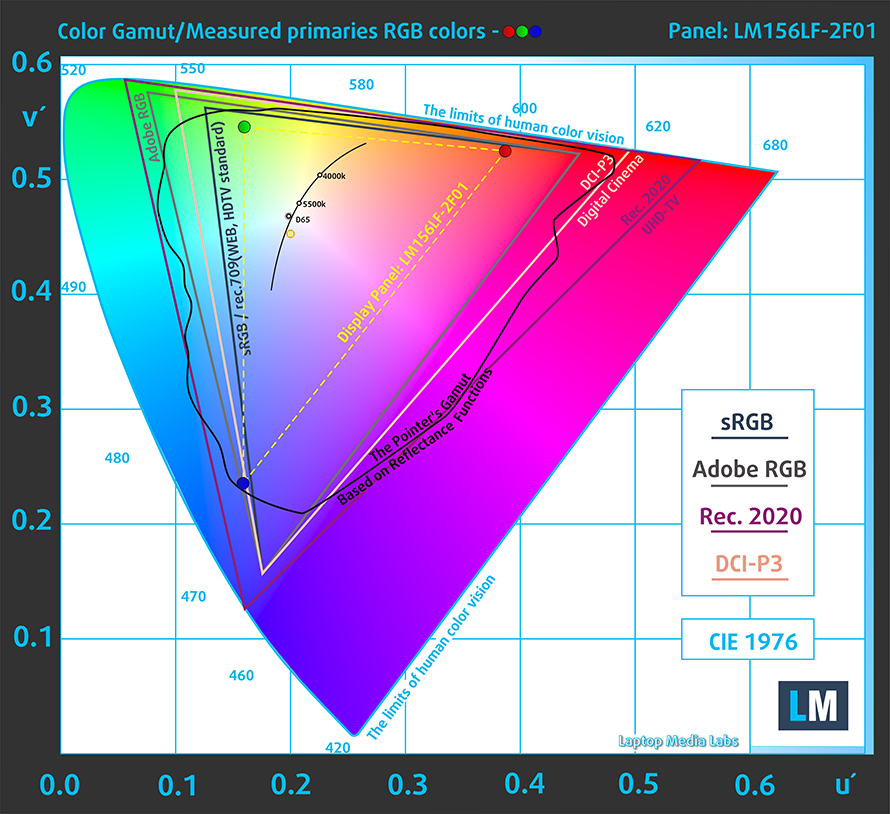 Our "Design and Gaming" profile delivers optimal color temperature (6500K) at 140 cd/m2 luminance and sRGB gamma mode.
We tested the accuracy of the display with 24 commonly used colors like light and dark human skin, blue sky, green grass, orange, etc. You can check out the results at factory condition and also, with the "Design and Gaming" profile.
Below you can compare the scores of ASUS TUF A15 (FA506) with the default settings (left), and with the "Gaming and Web design" profile (right).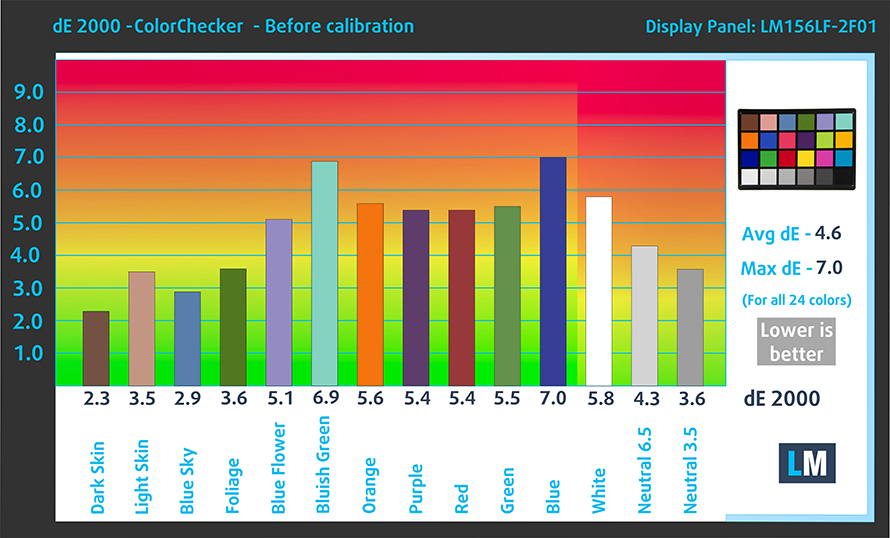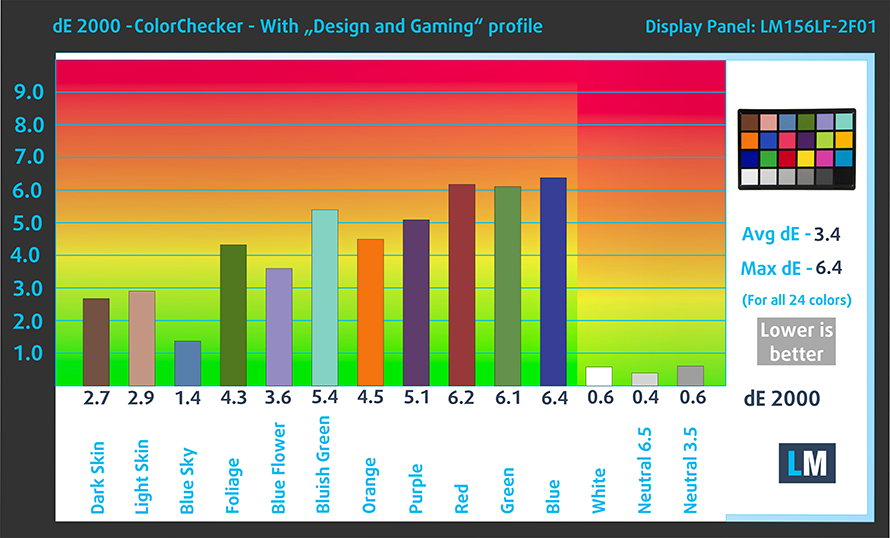 The next figure shows how well the display is able to reproduce really dark parts of an image, which is essential when watching movies or playing games in low ambient light.
The left side of the image represents the display with stock settings, while the right one is with the "Gaming and Web Design" profile activated. On the horizontal axis, you will find the grayscale and on the vertical axis – the luminance of the display. On the two graphs below you can easily check for yourself how your display handles the darkest nuances but keep in mind that this also depends on the settings of your current display, the calibration, the viewing angle, and the surrounding light conditions.
Response time (Gaming capabilities)
We test the reaction time of the pixels with the usual "black-to-white" and "white-to-black" method from 10% to 90% and vice versa.
We recorded Fall Time + Rise Time = 25 ms.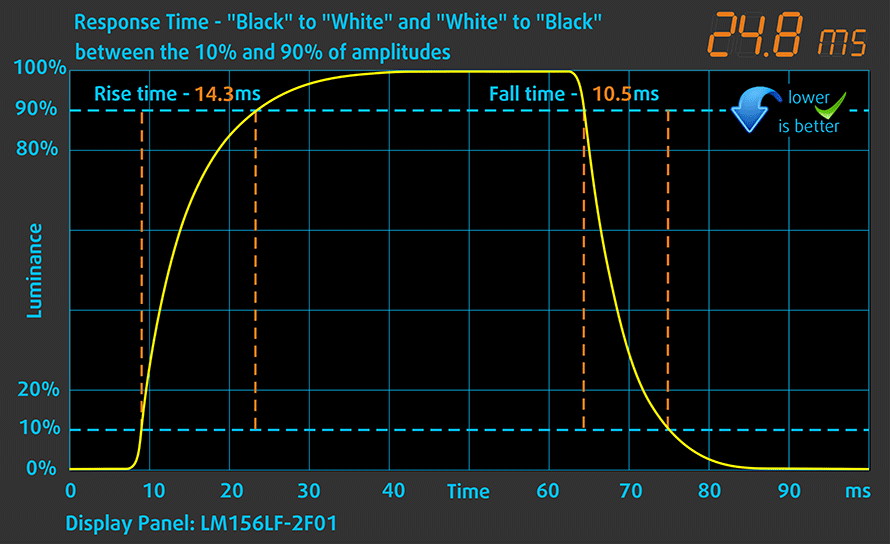 PWM (Screen flickering)
Pulse-width modulation (PWM) is an easy way to control monitor brightness. When you lower the brightness, the light intensity of the backlight is not lowered, but instead turned off and on by the electronics with a frequency indistinguishable to the human eye. In these light impulses, the light/no-light time ratio varies, while brightness remains unchanged, which is harmful to your eyes. You can read more about that in our dedicated article on PWM.
ASUS TUF A15 (FA506)'s display doesn't flicker at any brightness level. This provides comfort in extended periods of use.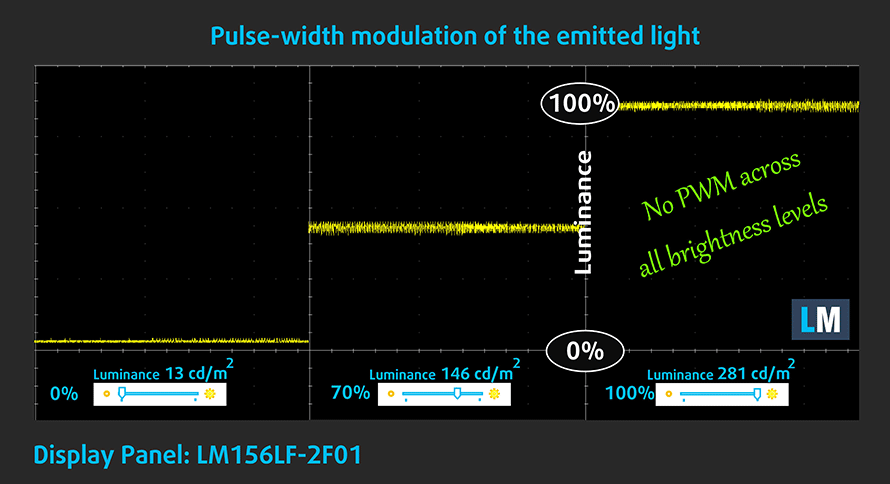 Blue light emissions
Installing our Health-Guard profile not only eliminates PWM but also reduces the harmful Blue Light emissions while keeping the colors of the screen perceptually accurate. If you're not familiar with the Blue light, the TL;DR version is – emissions that negatively affect your eyes, skin, and your whole body. You can find more information about that in our dedicated article on Blue Light.
Conclusion
ASUS TUF A15 (FA506)'s display has an IPS panel with a Full HD resolution and a 144Hz refresh rate. Traditionally, its viewing angles are great, the contrast ratio is good and its backlight doesn't flicker. Sadly, there are two major disadvantages – it covers only 55% of sRGB, which leads to colors looking washed out, and slow response time, which will result in slight ghosting, when combined with the 144Hz refresh rate.

Buy our profiles
Since our profiles are tailored for each individual display model, this article and its respective profile package are meant for ASUS TUF A15 (FA506) configurations with 15.6″ FHD IPS Panda LM156LF-2F01 (NCP004D).
*Should you have problems with downloading the purchased file, try using a different browser to open the link you'll receive via e-mail. If the download target is a .php file instead of an archive, change the file extension to .zip or contact us at [email protected]
Read more about the profiles HERE.
除了获得高效和健康友好的配置文件,购买LaptopMedia的产品,您还可以支持我们实验室的发展,我们在实验室测试设备,以产生最客观的评论。
Sound
ASUS TUF A15 (FA506)'s speakers sound reasonably good. However, the low, mid, and high tones all have some deviations from clarity.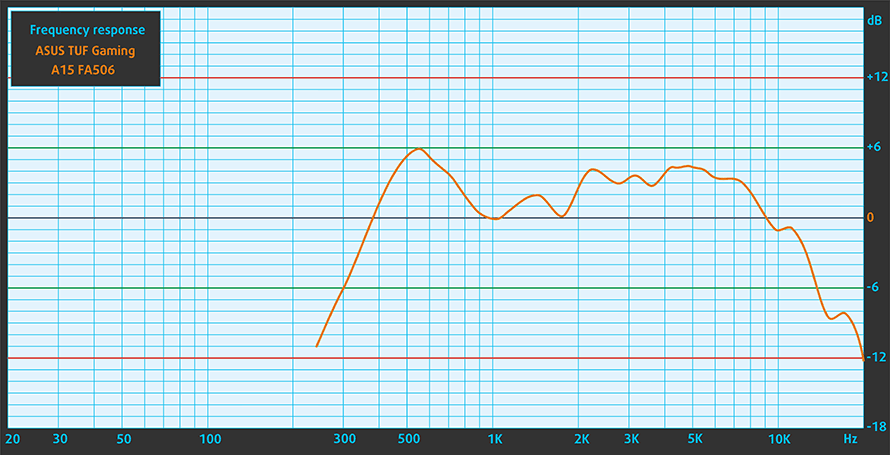 Drivers
All of the drivers and utilities for this notebook can be downloaded from here: https://www.asus.com/Laptops/ASUS-TUF-Gaming-A15/HelpDesk_Download/

Battery
Now, we conduct the battery tests with Windows Better performance setting turned on, screen brightness adjusted to 120 nits, and all other programs turned off except for the one we are testing the notebook with. We got around 7 hours and a half of Web browsing and 6 hours of video playback from the 48Wh battery.
为了模拟真实情况,我们使用自己的脚本自动浏览了70多个网站。
CPU options
This device comes with a choice of two very powerful processors. The "low tier" model is the six-core, twelve-thread Ryzen 5 4600H, while the top dog is the 8-core, 16-thread Ryzen 7 4800H.
结果来自Cinebench 20 CPU测试(分数越高越好)。
结果来自于我们的Photoshop基准测试(分数越低越好)
ASUS TUF Gaming A15 (FA506) CPU的变体
在这里,你可以看到市场上[系列]机型的CPU之间的大致比较。这样你就可以自己决定哪一个[系列]型号是最划算的。
注:图表显示的是最便宜的不同CPU配置,所以你应该通过点击笔记本的名称/CPU来检查这些笔记本的其他规格是什么。
结果来自Cinebench R23 CPU测试(分数越高越好)。
结果来自于我们的Photoshop基准测试(分数越低越好)
GPU options
Although exciting, the CPU options are quite limited. However, when it comes to the choice of a graphics card, you have four different models to chose from. From least powerful to most, they are the GTX 1650 (4GB GDDR6 VRAM), GTX 1650 Ti (4GB GDDR6 VRAM), GTX 1660 Ti (6GB GDDR6 VRAM), and the RTX 2060 (6GB GDDR6 VRAM).
结果来自3DMark:Fire Strike(图形)基准测试(分数越高越好)。
ASUS TUF Gaming A15 (FA506) GPU的变体
在这里,你可以看到市场上[系列]型号的GPU之间的大致比较。这样你就可以自己决定哪一个[系列]型号是最划算的。
注:图表显示的是最便宜的不同GPU配置,所以你应该通过点击笔记本的名称/GPU来检查这些笔记本的其他规格是什么。
Gaming tests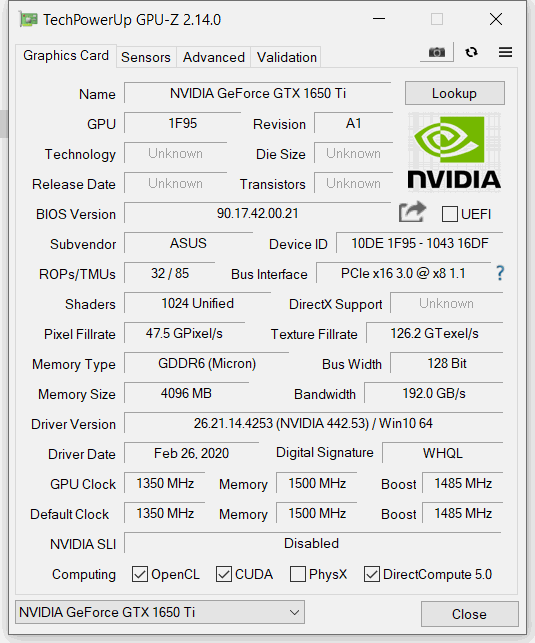 Temperatures and comfort
Max CPU load
In this test we use 100% on the CPU cores, monitoring their frequencies and chip temperature. The first column shows a computer's reaction to a short load (2-10 seconds), the second column simulates a serious task (between 15 and 30 seconds), and the third column is a good indicator of how good the laptop is for long loads such as video rendering.

Average core frequency (base frequency + X); CPU temp.
| AMD Ryzen 7 4800H (45W TDP) | 0:02 – 0:10 sec | 0:15 – 0:30 sec | 10:00 – 15:00 min |
| --- | --- | --- | --- |
| ASUS TUF A15 (FA506) | 3.51 GHz (B+21%) @ 78°C | 3.30 GHz (B+14%) @ 80°C | 2.89 GHz @ 69°C |
| ASUS TUF A17 (FA706) | 3.62 GHz (B+25%) @ 69°C | 3.44 GHz (B+19%) @ 76°C | 2.93 GHz (B+1%) @ 71°C |
Expectedly, the cooling solution performs slightly worse on the smaller device. However, we still monitored a great 69C when the system is loaded with a Prime95 stress with 2.89 GHz on all cores.
Real-life gaming
| NVIDIA GeForce GTX 1650 Ti | GPU frequency/ Core temp (after 2 min) | GPU frequency/ Core temp (after 30 min) |
| --- | --- | --- |
| ASUS TUF A15 (F506) | 1566 MHz @ 68°C | 1549 MHz @ 69°C |
So, here is how the GTX 1650 Ti performs in this device. It is interesting to see that the device is relatively cool. However, we are going to get a clearer view, as we test more laptops with this graphics card.
Comfort during full load
We won't lie – this is a pretty loud device. Indeed, the fans need to work hard in order to cool the potent CPU and GPU combo. On the bright side, though, the chassis is no warmer than 41C.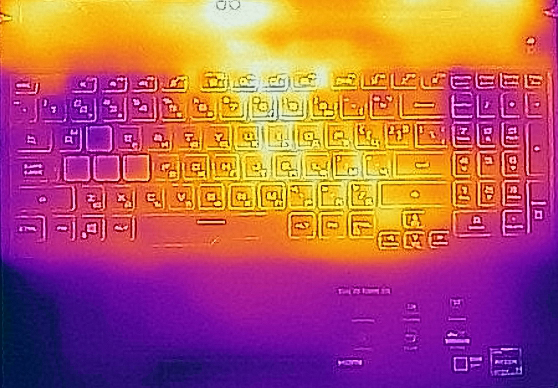 Verdict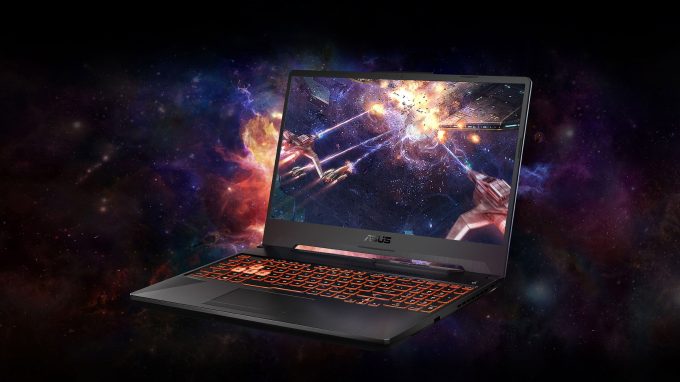 Today we didn't only have a look at a good piece of gaming machinery, but we also tested the NVIDIA GeForce GTX 1650 Ti. So, we should give it a little credit, shouldn't we?
Ever since NVIDIA released the lowest tier GTX graphics card from the Turing family, everybody wanted to see its Ti version. Alas, it is up and running in several machines out there, and to be honest, it is a good upgrade. It will provide a 10 fps increase in some AAA titles, which can really make the difference. Sometimes, this is all you need to make a game slightly more playable, and therefore making you more competitive. Of course, the performance is off the GTX 1660 Ti and the margin is quite big, but still, we would recommend a machine with the GTX 1650 Ti if your budget is tight.
Now, of course, there was no sign of CPU bottleneck in any game, as the Ryzen 7 4800H is just a beast. Honestly, AMD has done a great job with the efficiency of this CPU, as even a low-budget solution as this one is perfectly capable of delivering the performance you should expect. Moreover, in this case, the ASUS TUF A15 uses a single heat pipe to cool down the processor, and perhaps more surprisingly, it is shared with the GPU, making its job harder. In comparison, the Acer Predator Helios 700 uses an extremely sophisticated cooling solution to handle its 8-core processor. And yet, the CPU performance of the ASUS TUF A15 is better than that of the Helios 700. Surprising? Well, not quite. After all, we are talking about a 7nm manufacturing process, which provides a better-optimized architecture, hence – less heat for the same amount of power.
Enough for the speed, let's talk about mobility and versatility. A certain strong point for gamers is the keyboard. It has an AURA-compatible RGB backlight, its keys have a good amount of travel and clicky feedback. And while the higher resistance of the switches is good for gaming, you will feel it a little uncomfortable for long typing sessions (writing an essay, arguing with your girlfriend, etc.).
By the way, we'll return to the speed for a second, because this notebook supports up to 32GB of DDR4 memory, working at the whopping for a notebook 3200 MHz. Of course, we are talking about dual-channel connection, while the storage comprises a single M.2 NVMe slot and a 2.5″ SATA one as well.
ASUS TUF A15 (FA506)'s display has an IPS panel (Panda LM156LF-2F01) with a Full HD resolution and a 144Hz refresh rate. Traditionally, its viewing angles are great, the contrast ratio is good and its backlight doesn't flicker. Sadly, there are two major disadvantages – it covers only 55% of sRGB, which leads to colors looking washed out, and slow response time, which will result in slight ghosting, when combined with the 144Hz refresh rate.
Well, there is no device on the market right now that has no downsides. Here, you won't get a Thunderbolt certification (although the USB Type-C port supports 3.1 (Gen. 2) speeds and a DisplayPort 1.4 output), and there is no SD card reader on board. Yes, the laptop would get more expensive if it gets the former, and you can always snatch a deal on a USB to SD card reader dongle for no more than 5 bucks. However, it is good to have it onboard.
Bottom line – there are some compromises here and there, but if your one and only goal is performance – the TUF A15 will deliver the best value as of now.
Pros
Great price/performance ratio
Good keyboard with decent travel, clicky feedback, and an RGB backlight
Packs one of the most powerful mobile chips out there
3200 MHz memory in dual-channel, NVMe support, and 2.5″ SATA storage drive
The display doesn't flicker at any brightness level (LM156LF-2F01)
Has a good contrast ratio and comfortable viewing angles (LM156LF-2F01)
Can be purchased with a 144Hz screen with "Adaptive sync"
Cons
Lacks an SD card reader and Thunderbolt support
It gets pretty loud under load
Covers only 55% of sRGB and has slow response times (despite the fast refresh rate) (LM156LF-2F01)
You can check the prices and configurations in our Specs System: https://laptopmedia.com/series/asus-tuf-gaming-a15-fa506/