Top 100 Best Laptops for Overwatch 2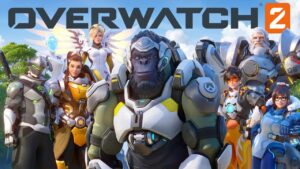 Overwatch 2 is a 2022 sequel to the first game released in 2016. The new title uses the same engine as the predecessor but of course, it's updated to meet new requirements for much bigger maps and yes, Overwatch 2 looks good and fresh simultaneously. In short, this is a first-person shooter game where players are separated into two teams and each player should choose a hero from a roaster. While the older game was created for 6 vs 6 players, the new one takes a different path and the player count is reduced to 5 vs 5. The roaster includes 35 different characters with unique looks and capabilities. The heroes are split into three categories (classes) – "damage", "support", and "tank".
Overwatch 2 brings new gameplay modes such as "Push" where the two teams are battling to push a payload into the enemy's base. Last but not least, the game is free-to-play which is great – the loot boxes are gone and the new title introduces a battle pass system so every new season will add new heroes, maps, and other goodies.
选择一个游戏:
选择所需的FPS (Full HD, 1080p):
处理器

Intel Core i5-12500H

视频卡

NVIDIA GeForce RTX 3050 (Laptop, 95W)

内存

8GB DDR5

存储

256GB SSD

显示

15.6", Full HD (1920 x 1080), 120 Hz, IPS

操作系统

Windows 11 Home
处理器

Intel Core i5-12500H

视频卡

NVIDIA GeForce RTX 3050 (Laptop, 95W)

内存

8GB DDR5

存储

256GB SSD

显示

15.6", Full HD (1920 x 1080), 120 Hz, IPS

操作系统

Windows 11 Pro