Samsung Galaxy S6 edge review – is this the most innovative smartphone in the world?

A few days ago we introduced you to the newest Samsung flagship model – Galaxy S6, which performed great in almost all of our tests. Now we got our hands on its sibling of the same size but different price (higher in this case) – Galaxy S6 edge. Actually, they're almost identical – they both have 5.1-inch Super AMOLED screens, Exynos 7420 processors, 3GB RAM and 16MP back sensors. These specs, of course, are far from being the most important – that's why we make the effort to conduct detailed examinations, testing the real camera quality, the real SoC performance, the real screen capabilities and anything else, that you might be interested in. Actually, if we happen to miss something of importance, you can rest assured that we'll be delighted to take a second look if you share your thoughts in the comments.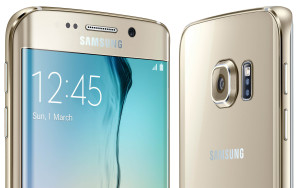 So why we consider the S6 edge to be the most innovative smartphone? It's really hard to give this assessment and, of course, there are certain things that some people consider to be advantages, and others don't, but it is definitely worth to take a deep look at the S6 edge's features. Under the hood the new flagship model sports UFS 2.0-based storage (Universal Flash Storage – ultra-fast embedded memory), the industry's first LPDDR4 Mobile DRAM (beating the transfer rate of LPDDR3 by a factor of two) and 8 processing cores, based on the big.LITTLE architecture (4 powerful + 4 power saving) and made through 14nm FinFET process.
It's time for the crown jewel – the 5.1-inch Super AMOLED screen curved on both sides, which looks outstanding. It creates a perception of an infinite display and we must say that the feeling of holding it is great.
Unfortunately, we still have just engineering samples, so we couldn't manage to conduct all the tests we usually do. Also, some of the measurements below can differ from the actual ones. We're waiting for the final units, and once they arrive, we're going to complete our S6 and S6 edge reviews and announce the update in the news stream.
Contents
What's in the box?
As in the S6' case, the unit that we have isn't a final production one, and therefore it didn't come in a box, nor did it have a USB cable or a charger. We're going to update that part of the review when we receive the final S6 edge.

Design and Construction
You can't expect something fundamentally different from the S6, but we're not worried a bit because the new flagmans look amazing. It's a finely crafted construction of glass and metal, which is not only beautiful but sturdy as well. We couldn't afford to make a drop test, but there are a couple of videos on YouTube, that show that the new S6 edge is pretty durable. The main suspect for that is the unibody framework which holds all the components in their place.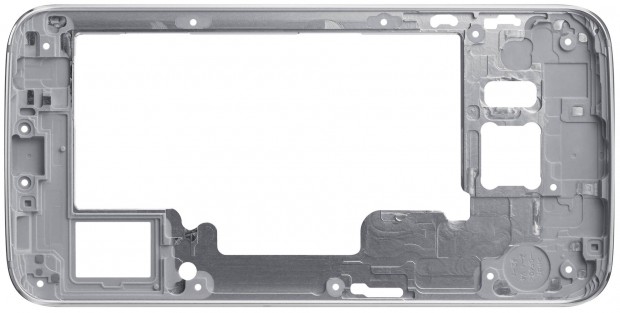 Actually, this is the first unibody Galaxy S model, and also the first (in our opinion) to reach a level of premium feeling this high. As you have probably guessed, the "glass" isn't a simple glass material, but Corning's latest ultra-tough invention – Gorilla Glass 4. In the announcement, they mentioned that it achieves up to "2X better drop protection" compared to "competitive glass designs", so if you really like to learn something about it (more than fancy marketing words), you should visit the official product information sheet.
You can also take a look at these two videos, which we posted in the S6 review, too.
The S6 edge suffers (or their owners could) from the same things as the standard S6 – lack of water and dust protection (one of the best S5 features), non-removable battery and lack of a MicroSD slot. The last one is especially irritating if you've used a memory card for your movies/music library in your previous phone. We tend to almost forgive that, though, because of the UFS 2.0 technology for the storage, which we're going to discuss later.
Going back to the visual characteristics, we couldn't go without saying some nice words about the curved screen. We can't say that it's super useful, but as we already said, it gives you a feeling of immersing in an infinite display, which we haven't experienced with a mobile phone until now.

Galaxy S6 edge weighs 6 grams less than its sibling (132 g vs 138 g), but it's slightly thicker – 7.0 mm (vs 6.8 mm). This is what S6 and S6 edge look like, placed next to each other.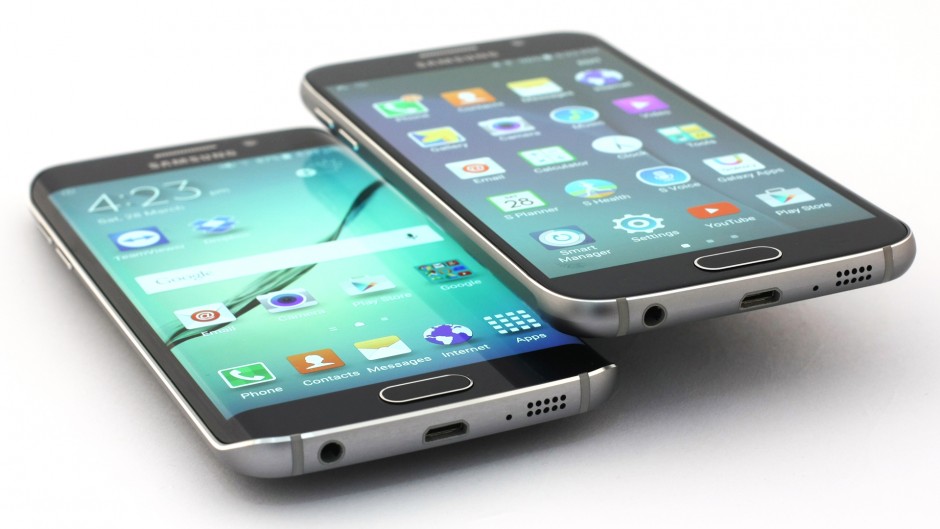 The top and bottom sides of both phones look the same, but the other two sides are thinner because of the curved screen.
Display
Samsung Galaxy S6 has a Quad HD Super AMOLED display with a capacitive multi-touch (up to 10 points at the same time) panel. It's protected by Gorilla Glass 4, and the resolution is 2560 x 1440 pixels. Actually, this resolution (577 ppi) only applies to the green sub-pixels. The reason is that every pixel has 4 sub-pixels – two green ones, one red and one blue (the green ones are slightly oval), entangled in a "diamond structure".
To interpret an image as perfectly detailed, you should keep a minimum distance of 21 cm (for normal 20/20 vision) between the screen and your eyes. We rate S6 edge's screen as excellent, with regard to this factor.
You can see the pixel order in our microscope photo.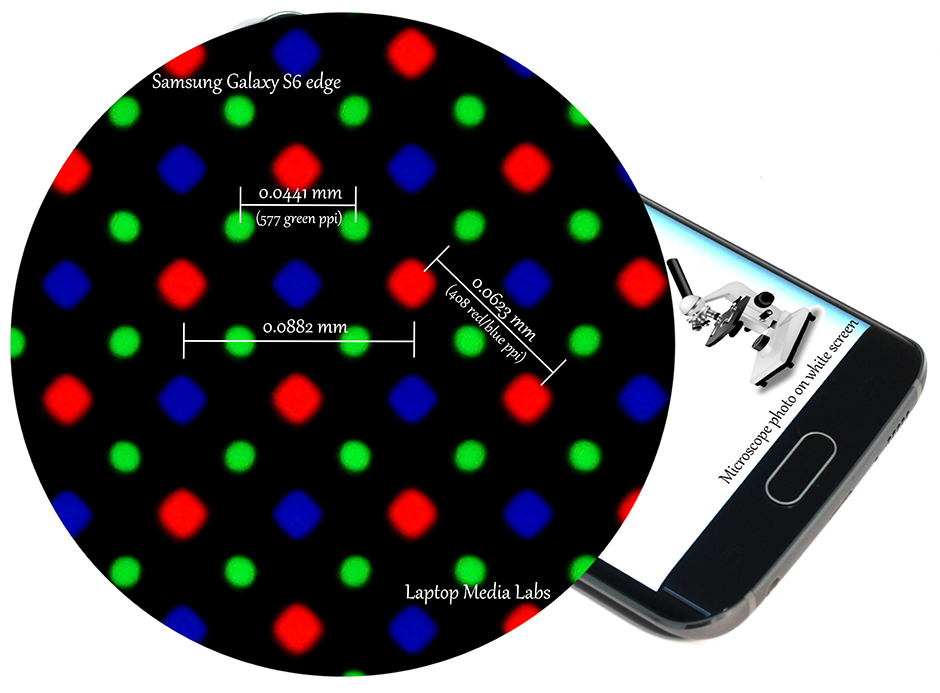 Galaxy S6 edge has wide viewing angles, with unnoticeable image difference at 45°.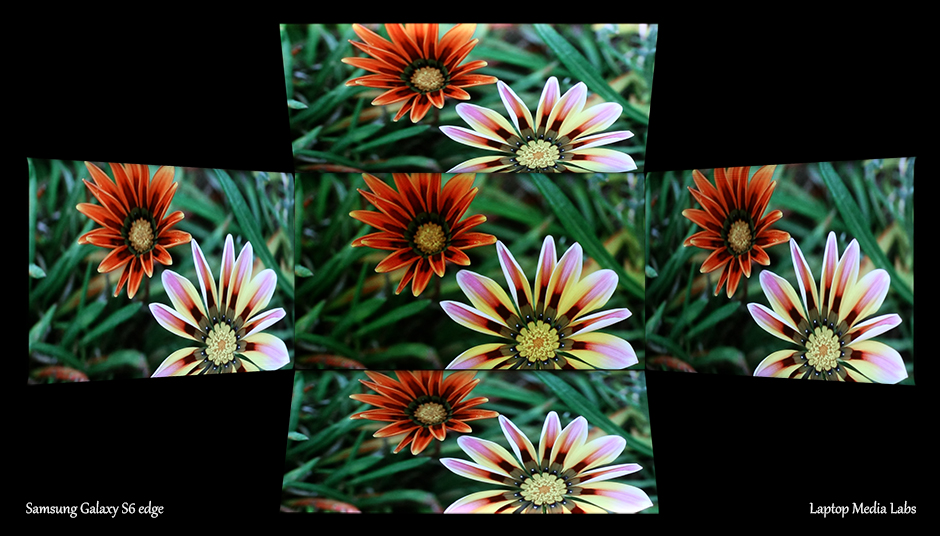 The measured average maximum brightness (at 100% white screen fill) is very high, but that depends on several factors. Apart from the chosen display mode, the ambient light and the fill percentage matters, too. We measured the maximum brightness at extremely high ambient light – over 80 000 Lx (the sun in its zenith). We added the measurement result at 10% fill just to illustrate the display capabilities, but we won't use it for comparisons, in order to juxtapose the displays in equivalent conditions.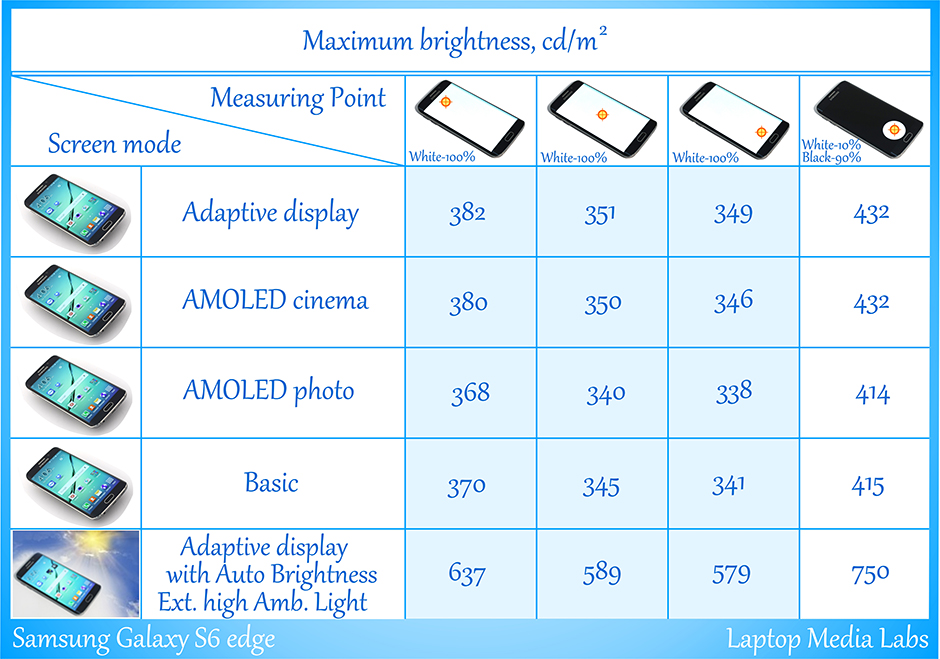 The contrast of this type of matrix is unsurpassed, because of the pixels which generate light without need of backlight, and they just switch off to appear black.
We conducted the following measurements with turned off "Auto Brightness" and Adaptive display mode.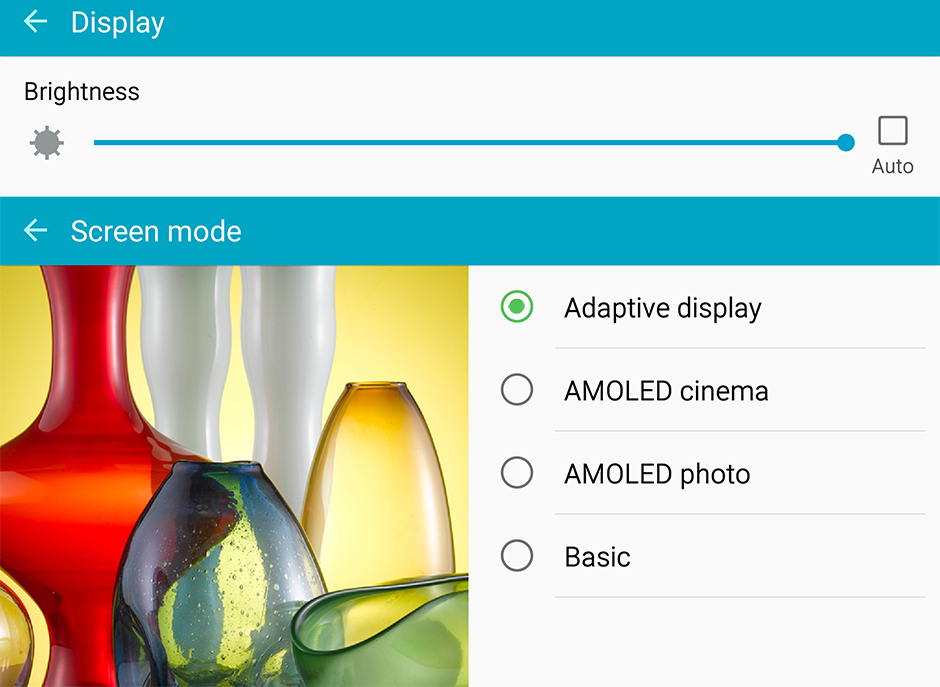 Color Gamut Coverage (CIE)
Galaxy S6 edge's display covers 99% of the sRGB and 98% of the Adobe RGB color gamuts. There is only one percent of the Internet colors that is not reproduced, but the display will show the closest colors possible. This is an excellent result.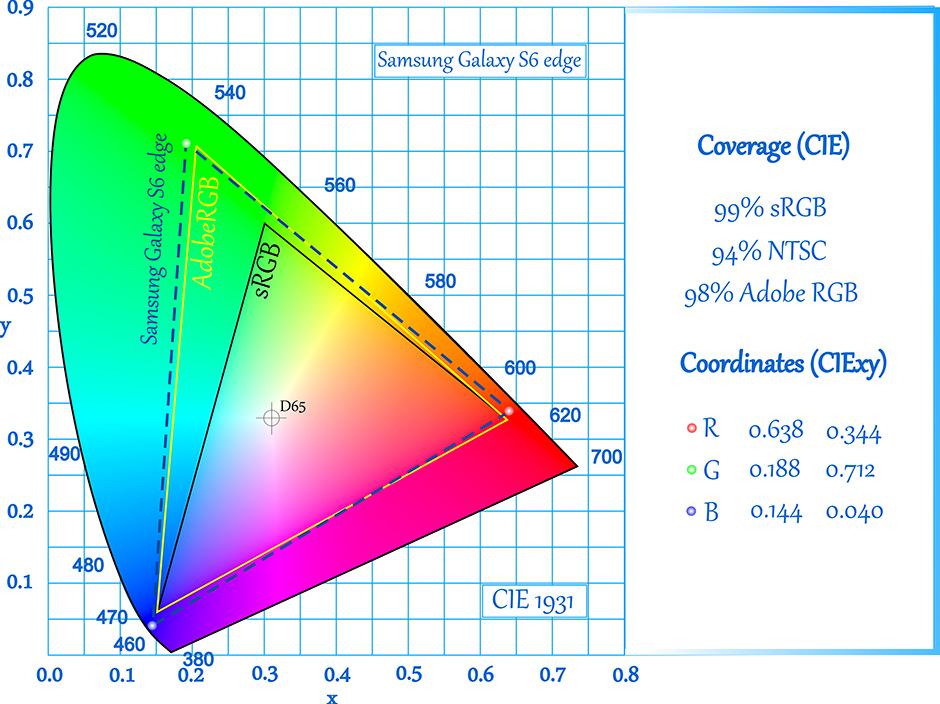 The gamma curve deviates slightly from the optimal one – the medium brightness levels will be shown as a bit darker.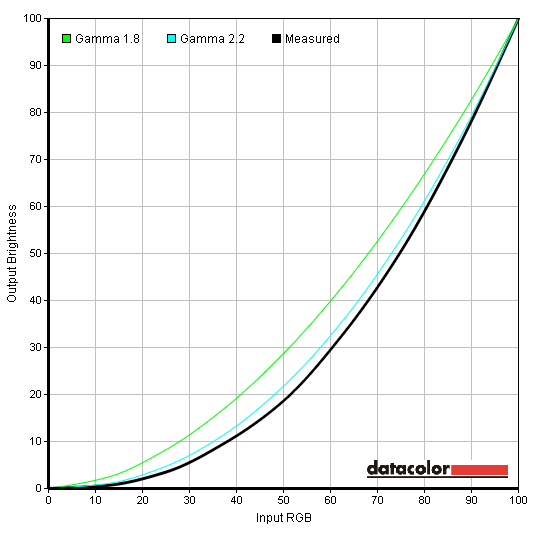 Color Reproduction
Just as with the Galaxy S6, S6 edge has pretty accurate colors (what a surprise!). The average DeltaE(76) deviation is 1.17. Deviation results below 1.00 are unnoticeable to the naked eye. DeltaE of 2.0 is the limit for monitors, aimed at professional image editing. In other words, the chance that you are reading this review on a screen with this kind of accuracy is really small.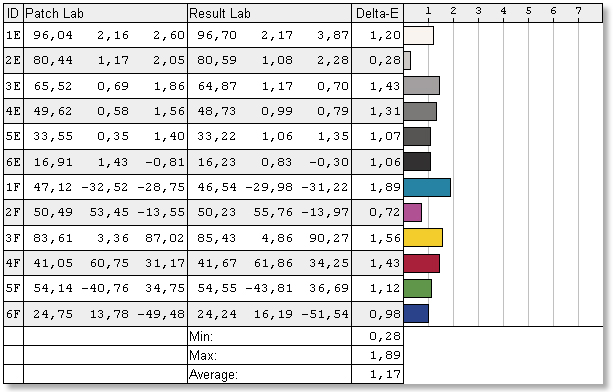 You can see (oh…or maybe you don't?) the differences between the sample colors we assigned to the Galaxy S6'edge and the results we got.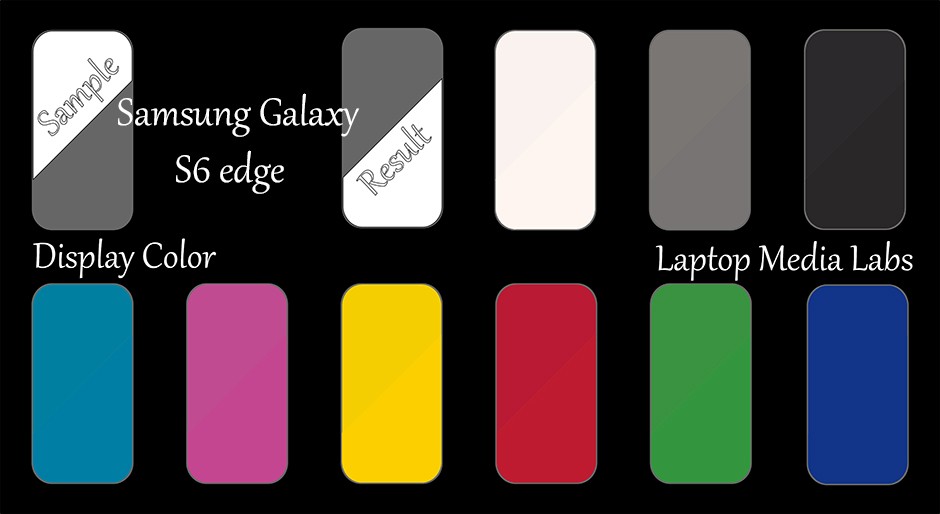 PWM
Although Samsung Galaxy S6 edge's display doesn't have a backlight, the emitted light pulsates. In this particular case, there's a difference between the S6 screen and the displays which emit typical PWM-type flickering light. Those very same displays have a constant light intensity and the brightness change affects only the fill correlation of the impulses (light phases / dark phases), which changes as a fluent of the brightness slider position.
In Galaxy S6 edge, when you move the brightness slider to 50%, for example, the pixels are less bright (around 80%), and the dark phase increases to nearly one-third of the period. This is the preferred scenario because that way the negative pulsation affect is reduced. However, the low frequency of 240 Hz is a disadvantage.

Conclusion
Galaxy S6 edge's display has a great resolution, accurate colors, outstanding contrast and wide color gamut coverage. The pulse-width modulation is a bit of a disappointment, but our overall impression is very good.

Battery Life
Unfortunately, our Galaxy S6 edge unit drains its battery in a matter of minutes. We're pretty sure that won't be the case with the final unit, so we're going to just wait for it and then we'll update this part of the review.

Specs sheet
The specs listed here refer to this particular model, and configurations may differ depending on your region.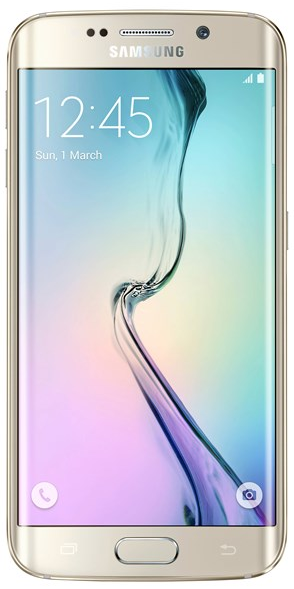 | | |
| --- | --- |
| Operating system | Android 5.0.2 |
| CPU | Exynos 7420 (4x [email protected] + 4x [email protected]) |
| RAM | 3GB RAM (1600 MHz, LPDDR4, 25.6 GB/s) |
| Storage | 32/64/128GB UFS 2.0 memory |
| GPU | Mali-T760 MP8 (772 MHz) |
| Display | 5.1-inch (12.95 cm) – Super AMOLED, 2560 х 1440 pixels (577 PPI), Gorilla Glass 4, Curved |
| Connectivity | 4G LTE, Wi-Fi 802.11a/b/g/n/ac, Bluetooth 4.1 (A2DP, LE, apt-X), GPS (a-GPS + GLONASS), NFC, Infrared port, MicroUSB 2.0 (with On-The-Go support) |
| Cameras | Sony IMX240 Exmor RS – 16MP, f/1.9, autofocus, LED flash, OIS, 4K@30fps video recording (back); Samsung S5K4E6 – 5MP, f/1.9 (front) |
| Features | Accelerometer, gyro, proximity, compass, barometer, hear rate sensor, Wireless charging (Qi/PMA) |
| Battery | 2550 mAh |
| Dimensions (W/H/D) | 143.4 x 70.5 x 7.0 mm – 9.0 mm |
| Weight | 132 g (4.66 oz) |
UFS 2.0 is much faster storage than the common used eMMC 5. Using "Command Queue" UFS 2.0 reaches 19,000 I/O operations per second in random reading or almost 3 times more than the eMMC memory. The new flash storage achieves sequential reading and writing speeds of 350MB/s and 150MB/s, respectively, which is a huge jump in the industry. Unfortunately, we can't test that, due to the engineer unit we have.
There are just a couple of little differences between the S6 edge and S6, which you can see in the table below:
| | Samsung Galaxy S6 edge | Samsung Galaxy S6 |
| --- | --- | --- |
| Display | 5.1-inch (12.95 cm) – Super AMOLED, 2560 х 1440 pixels (577 PPI), Gorilla Glass 4, Curved | 5.1-inch (12.95 cm) – Super AMOLED, 2560 х 1440 pixels (577 PPI), Gorilla Glass 4 |
| Battery | 2600 mAh | 2550 mAh |
| Dimensions (W/H/D) | 143.4 x 70.5 x 7.0 mm – 9.0 mm | 143.4 x 70.5 x 6.8 mm – 8.8 mm |
| Weight | 132 g (4.66 oz) | 138 g (4.87 oz) |
Software – Android 5.0 Lollipop + TouchWiz
Unfortunately, our Galaxy S6 edge doesn't run the final version of the TouchWiz UI and furthermore, it doesn't have all the software features which will be found in the production units. We're going to just share some quick glimpses of the interface, and we'll update this section when we receive the end product.
Performance
Samsung Exynos 7420
The new Exynos 7420 is one of the greatest new features in Galaxy S6 edge and Galaxy S6. It has four Cortex-A53 cores working at 1.5 GHz and four 2.1GHz Cortex-A57 cores. The GPU is a high-end Mali-T760, which provides a superb performance. Exynos 7420 is the first smartphone which uses a 14-nm-FinFET-SoC LPE (Low Power Enhanced) process. This time there is no Snapdragon version or anything of the sort, just an Exynos model. Samsung claims that, thanks to the 14-nm FinFET technology, their Exynos chip is 20% faster, 30% more powerful and 35% more energy-efficient than its 20nm predecessor.
Here is a little comparison to the most popular 7420 competitor – Snapdragon 805, which can be found in current flagship phones as LG G3 (Prime/LTE-A), Galaxy Note 4, Galaxy S5 (LTE-A) and Motorola Nexus 6.
| Benchmarks | Samsung Exynos 7420 | Qualcomm Snapdragon 805 |
| --- | --- | --- |
| Geekbench 3 (Multi-Core) | 4604 | 3332 |
| AnTuTu 5 | 68913 | 53296 |
| 3D Mark Ice Storm Unlimited | 22007 | 23594 |
| GFXBench 3 T-Rex (offscreen) | 52.7 | 38.8 |
| GFXBench 3 Manhattan (offscreen) | 24.6 | 18.6 |
Epic Citadel
Epic Citadel is an application which shows the Unreal engine capabilities. Our idea here is not to compare S6's results against other devices because the benchmark doesn't have an Offscreen version – the rendered resolution is the one of device's screen.
At high quality, Galaxy S6 achieved 59.0 fps and at Ultra High Quality – 53.6 fps.
Real games
Mali-T760 MP8 shows great performance in the synthetic benchmarks, but the more important question is how it handles the actual games. We've already revealed that in a quick "gaming battle" between the S6 and Nexus 6, and we can say that Exynos 7420 does its job very well.
We test the graphic capabilities with four games – Asphalt 8, Brothers in Arms 3, Overkill 3 and Despicable Me: Minion Rush. S6 edge managed to run only two of them (Asphalt and BIA), but the results are almost identical as with Galaxy S6, so we know what to expect.
Asphalt 8 runs at 29 frames per second at average, and Brothers in Arms III got us 25 FPS. Good results.

Camera
The Galaxy S6 edge camera has a 16MP sensor (5312 x 2988 pixels), f/1.9 aperture and Optical Image Stabilization. Actually, this is the same Sony IMX240 Exmor RS sensor as the one in Galaxy Note 4, but Samsung has improved the optics and has added some cool features like the White Balance detection (using the IR sensor), object tracking autofocus and improved PDAF (phase detection autofocus) system. It's identical to the one in S6. A very handy feature, which we liked a lot, is the quick camera shortcut, with a double-click of the home button.
The front camera has also underwent some refinement. It's boosted to 5MP and its aperture is f/1.9, so your selfies will be better than ever, even in low-light conditions.

Resolution
We measure the camera's resolution in LPH (Lines per Picture Height), which is affected by both the lens and the sensor. To conduct our test, we use the ISO 12233 test chart.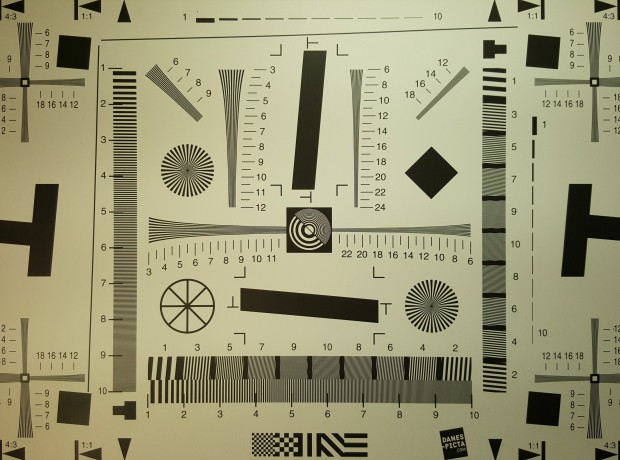 Galaxy S6 edge's camera achieved maximum resolution of 2800 LPH at the center, exceeding the range of the chart, and this is a good indicator for the reproduced details.
Using our test composition, we can gain a subjective but fairly accurate view of the resolution, sharpness, color noise and chromatic aberrations.
The result is the same as in S6 – one of the highest-quality test photos that we've ever made with a smartphone camera.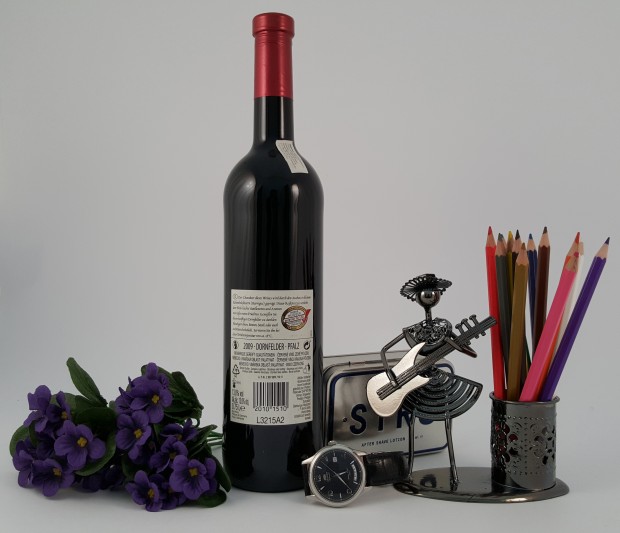 The text is very easy to read.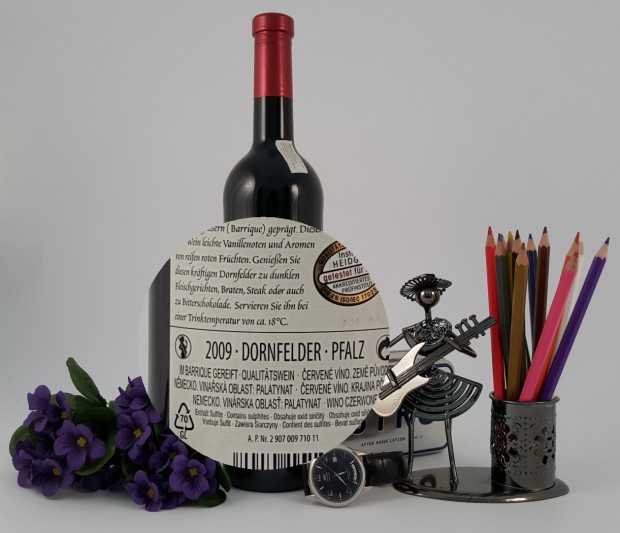 Color noise and aberrations
There are no apparent signs of chromatic aberrations at all.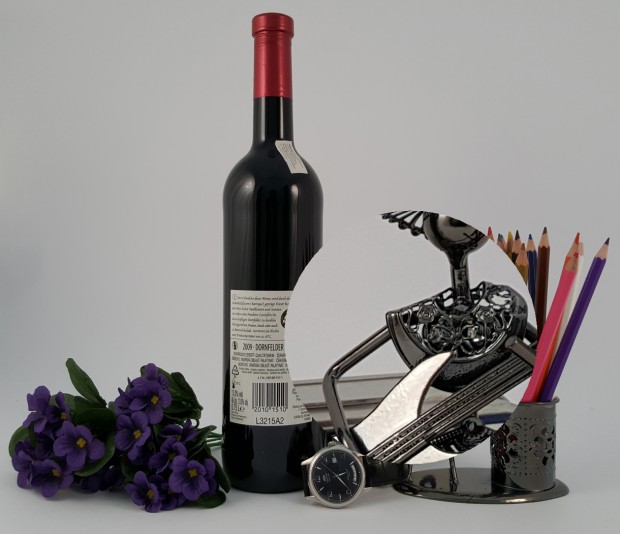 The areas of the photo featuring shadows are perfectly reproduced (for a smartphone camera), with low levels of color noise.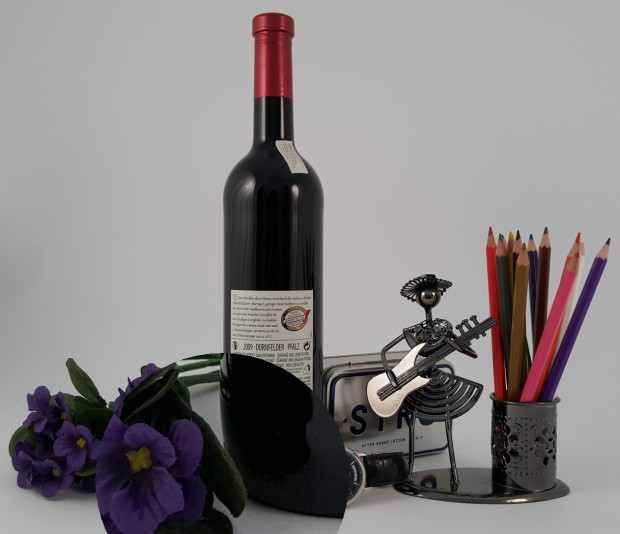 Color reproduction
The S6 edge camera reproduced the color map in a relatively accurate way, but there is some over-saturation. We have to note that we experienced some trouble with the auto white balance.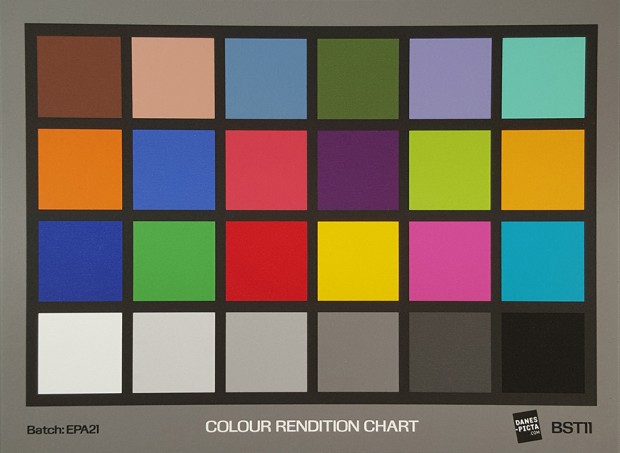 | | |
| --- | --- |
| Blue | very good |
| Green | good |
| Red | acceptable |
| Yellow | excellent |
| Magenta | very good |
| Cyan | good |
| White | very good |
| Gray | very good |
We give it 7.0 out of 10.0.
You can see the color differences in the digital color map below.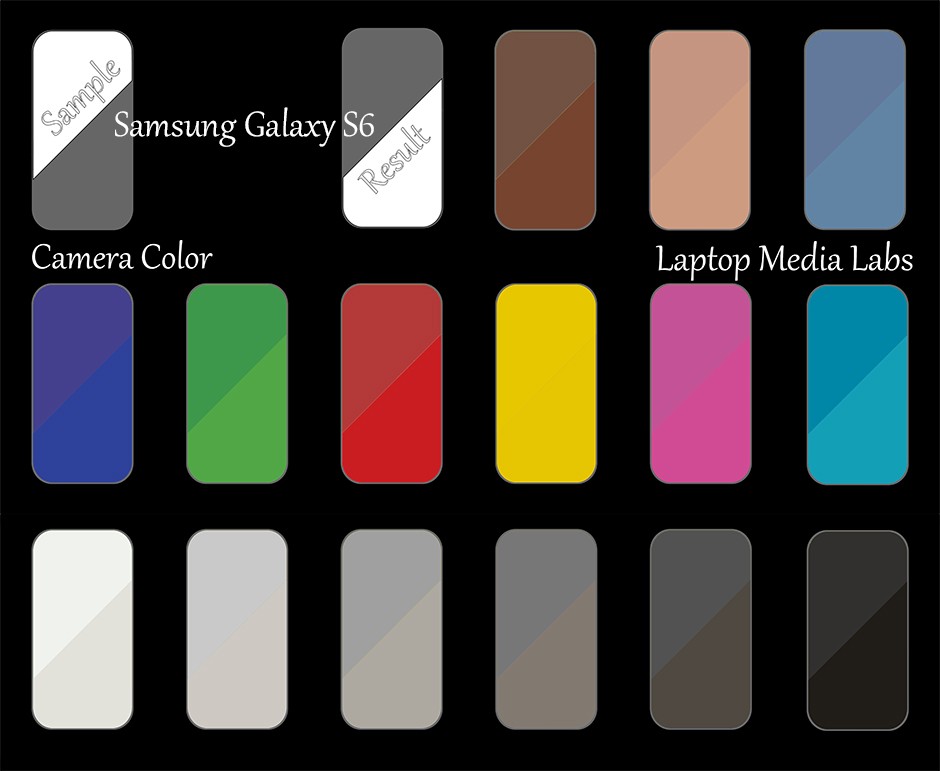 Sample photos
HDR video shooting
Galaxy S6 edge can shoot HDR video with resolution up to 1080p and 30 frames per second. You can take a look at a little sample below – how the scene looks with and without HDR mode.
Some final camera thoughts
The S6 edge / S6 camera is one of the best we've tested so far. The photos are clear, detailed and some of them can be difficult to distinguish from ones taken with a standalone camera. The resolution of 2800 LPH is great and the f/1.9 aperture allows you to take quality shots in low-light conditions. The white balance leaves something to be desired in some situations, but it's possible that this issue could be fixed with a software update. The colors are slightly over-saturated, but this can be an advantage in everyday use because the photos look nicer.

Conclusion
Galaxy S6 edge isn't very different from the original S6, but that shouldn't be considered as a negative. Both phones are great and their features are almost identical, but if you really want to stand out and don't mind the attention and curiosity in the cafe, S6 edge is definitely a nice choice. In addition, you'll get the awesome experience of being immeresed in your phone display, behind which are placed other state of the art components – the 14nm Exynos System-on-a-Chip, 16MP f/1.9 camera, UFS 2.0 storage and LPDDR4 RAM.
Galaxy S6 also has those very same components, but if you could afford S6 edge and you want to have the most cutting edge technology in your pocket – S6 edge is the best smartphone you can get on the market now.
Unfortunately, we still have just engineering samples, so we couldn't manage to conduct all the tests we usually do. Also, some of the measurements below can differ from the actual ones. We're waiting for the final units, and once they arrive, we're going to complete our S6 and S6 edge reviews and announce the update in the news stream.
Pros
Awesome looking curved screen
Unibody construction
High-performance Exynos 7420 SoC
LPDDR4 RAM, UFS 2.0 Storage
99% sRGB color gamut coverage and accurate colors
High quality f/1.9 camera
Fingerprint scanner, Wireless charging (Qi/PMA)
Cons
Lack of Water and Dust protection
Lack of a MicroSD slot
PWM across all brightness levels